The Porterville Post | Right from Springville©
---

(Intro & Bio) -
RIGHT From Springville©
with Bob Inabinette
: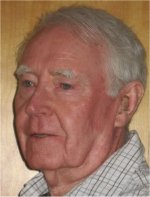 A BIT ABOUT BOB :
I was born in Moss Point, Mississippi in 1931, the middle child of 10 children. Like many children of the South in those times, I grew up poor. At age 15, with a 7th grade education, I left home from Vancleave, MS. I worked in a sawmill to make money for traveling to Independence, MO. There I worked for Western Union for several months delivering telegrams to pay my room and board. In December 1947, at age 16 I joined the US Air Force. In July 1948 I arrived in Japan where I spent 27 months. I attained the level of Cpl. and Crew Chief of radar operations in a Tactical Control Center in Niigata, Japan which was my final duty station.
---

(Apr 25 2013) -
Immigration Letter to McCarthy
SPRINGVILLE, CA -- Dear Kevin, We have at least 12 million illegal immigrants here today and we allow in 100,000 legal immigrants in each month! There is no way that they can be properly vetted! There should be NO AMNESTY! Their first crime was breaking into our country. The bleeding hearts are concerned about the illegals children that were born here but that was the parents decision. If someone breaks into your home and has a kid while you aren't home, does that make it you obligation to let them say and you have to support them? The illegals that are here now are because of prior amnesties!
---

(Mar 30 2013) -
High Speed Rail, a heart breaker and Debt Maker
SPRINGVILLE, CA -- On May 1, 2011 Amtrak kicked off its 40th anniversary celebration.They did not mention the fact that over that period of time Amtrak has cost taxpayers $37 billion! The railroad was supposed to earn a profit when it was created by the government in 1971, but it never happened.In fact, a 2009 study found that taxpayers paid $32 in subsidies for each passenger in 2008.Now get this; by booking one month in advance, it is possible to buy a round trip plane ticket from New Orleans to Los Angeles and back for less than Amtrak loses on each passenger on a one-way trip between those same locations!
---

(Oct 24 2012) -
NFL players VS armed service members
SPRINGVILLE, CA -- I just watched a FOX program that featured Ricky Watters, ex-NFL player, who is among 3300 NFL players that are suing the NFL league for injuries they incurred in playing football for the league. Watters was complaining about multiple concussions, broken bones, etc. While all professional sports and entertainment must be considered here, I will compare the football players to our armed service troops and will use Ricky Watters as an example ...
---

(Sep 01 2012) -
What's happened to personal responsibility ?
SPRINGVILLE, CA -- There have now been two letters to editor in the Porterville Recorder complaining about no one else taking care of THEIR loved ones graves! Why is it not THEIR responsibility to take care of the graves? I have a unique idea: The ones who have loved ones buried there should get together and take care of the cemetery! It would not be that much of an effort it everyone pitched in. Will these people ask someone else to take care of their lawns at home next?
---

(Jul 11 2012) -
Imagine an employer paying an employee to ...
SPRINGVILLE, CA -- Imagine an employer paying an employee to 1.) look for a new job and 2.) paying the expenses. "We the people" are the employer and all elected officials, local, state and federal are our employees. When our elected officials are campaigning we are paying to get them to get reelected, or in other words, looking for a new job! In most cases we even pay their expenses. Can you imagine this happening in the private sector?
---

(Jun 06 2012) -
Open Letter to Supervisor Mike Ennis
SPRINGVILLE, CA -- Dear Supervisor Ennis, I am sending this to you because you know that "you work for us." I know that a new jail is on the agenda for tomorrow and that is the reason for my inputs. We are building a multi-million dollar courthouse in Porterville because of the increased number of cases to be tried. You are now discussing the building of a multi-million dollar jail to house those convicted or being held for trial. It seems that our governments are bent on passing stupid laws in order to put more people in jail for us taxpayers to support. Why not find a way to prevent crimes in the first place?