Dear Editor, A few days ago, my wife and I stopped into Burger King for lunch. We ordered and enjoyed our combo meal. When I went back for a Coke refill, I happened to look at the cup itself.
After a few moments of looking at the entire black with red cup, it was easy to see that there was a red flaming hand that occupied at least half of one side.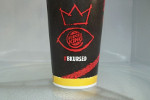 Then, printed at the bottom of one side, was this: BKURSED.
I love anagrams and puzzles but couldn't arrive to any conclusion other than "Burger King ... something somthing". So, I asked the teenage counter person to decode it for me.
She said, "Oh, it means, "BE CURSED".
I exclaimed, "You're kidding me!".
---
DO NOT BE DECEIVED !!!
This is not a joke and it's not some innocuous Halloween advertisement.
DO NOT PARTAKE OF THIS CURSE !!!
Have them give you a different cup! Isaiah 5:13 and Hosea 4:6 both advise that ignorance is at least captivity (Isaiah 5:13) and can even mean destruction (Hosea 4:6).
Respectfully, Pastor Randy Minnick From Springville, CA.