The Porterville Post | On-Line News and Information | POST Papers
---
(Oct 22 2019) - Bangkok Post : Emperor proclaims enthronement
JAPAN -- Japanese Emperor Naruhito officially proclaimed Tuesday his enthronement before roughly 2,000 guests, including some 420 dignitaries from about 190 countries & international organisations, in a ceremony at the Imperial Palace featuring elements of ancient protocol. "I pledge hereby that I shall ..."

---

(Oct 21 2019) - Wash Post : Trump slams Dem's & Republicans
WHITE HOUSE -- President Trump lashed out against the impeachment process during a raucous Cabinet meeting Monday, turning the White House gathering into a Trump-run war room as he continues to unnerve many of his Republican allies by insisting on a personal and largely uncoordinated response to his mounting challenges.

---

(Oct 20 2019) - First Post : Demands from Hong Kong Protesters
HONG KONG -- Protesters flooded the city's streets on Sunday in defiance of a ban by the authorities on their march, setting up roadblocks & tossing firebombs amid the firing of tear gas by police. Protest leaders carried a black banner at the front of the procession that read, "Five main demands, not one less" ...

---

(Oct 19 2019) - New York Post : Mob whacked Pope John Paul I ???
ITALY -- He helped kill the pope — so his pals could stay out of hell. That's the shocking claim from longtime Colombo gangster Anthony Raimondi, who says, in 1978, he went to Italy with a team of hit men who whacked John Paul I. They allegedly poisoned him with cyanide just 33 days into the pontiff's reign ...

---

(Oct 16 2019) - Irish Post : Irish people 'ought' to love Trump
IRELAND -- Ireland has been urged to show President Donald Trump more love and affection by a leading Irish American businessman. Brian Burns, a Florida-based businessman who was Trump's first choice to by US ambassador to Ireland before he declined due to health reasons, made the comments while being interviewed ...

---

(Oct 15 2019) - SCM Post : US-China trade talks to resume ...
WASH D.C. -- High-level trade talks between China & the US will resume next week as the two sides aim to finalise a "phase one" agreement during an upcoming regional leaders forum next month, US Treasury Sec' Steven Mnuchin said on Monday. Mnuchin & US Trade Representative Robert Lighthizer plan to have a phone call ...

---

(Oct 14 2019) - Maravi Post : In the world of "Fake News" ...
MALAWI -- Information, Civic Education & Communications Technology, Hon. Mark Botomani, MP, has admonished MBC to be the leading light of truth in the age of fake news being peddled on social media. Minister Botomani was speaking Monday morning when he toured Malawi Broadcasting Corporation (MBC) offices ...

---

(Oct 13 2019) - Sunday Post : I was sold as a slave ...
SCOTLAND -- A human trafficking victim tricked into moving to Scotland before being sold as a bride has spoken of her ordeal for the first time. Adriana Adiova has returned to her home town in eastern Slovakia where she was first approached by a woman who promised farm work in Britain.

---

(Oct 12 2019) - Connecticut Post : Exculpatory text relayed by Trump
WASH D.C. -- The U.S. ambassador to the European Union, Gordon Sondland, intends to tell Congress this week that the content of a text message he wrote denying a quid pro quo with Ukraine was relayed to him directly by President Donald Trump in a phone call, according to a person familiar with his testimony.

---

(Oct 04 2019) - Activist Post : California to Solve Homeless Problem
BAKERSFIELD, CA -- There is no doubt that California is experiencing a homeless crisis. In certain parts of the state, the homeless problem has turned into a public health issue as well, as many homeless people struggling with addiction have resorted to using public side walks as personal toilets. But ...

---

(Oct 03 2019) - Pickering Post : Dead Men Don't Need Impeachment
WASH D.C. -- The man on the left flew to New York to beg for Donald Trump's support in his 2012 run for President against Obama. He came to Trump again when he ran for the U.S. Senate after somehow losing the presidency to a Socialist Muslim no one had ever heard of before. Trump graciously helped him–again.

---

(Sep 30 2019) - Kathmandu Post : Govt has no right to dictate ...
NEPAL -- The promise of the internet was that it would give everyone a voice. Social media platforms often provide ease with which people can convey their discontent. But as we enter the digital era, politicians frequently find themselves the target of criticism on social media. Perhaps that is why ...

---

(Sep 29 2019) - Gwinnett Post : Humans can get tuberculosis from
U.S.A. -- The Centers for Disease Control & Prevention has found another unusual way animals can get humans sick. Luckily, this one doesn't involve kisses from your pet. After 2 decades of hunting, a 77-yr-old Michigan man came down in 2017 with a case of tuberculosis. The carrier, according to CDC, was an infected deer.

---

(Sep 28 2019) - Jerusalem Post : Trump on Russian interference in ...
WHITE HOUSE -- US President Donald Trump said in 2017 to top officials in the Russian gov't that he is not worried about possible Russian interference in US elections as the US itself, he allegedly claimed, did so in other countries. The statement led to the summery of the meeting being restricted ...

---

(Sep 27 2019) - Orissa Post : World must unite against terror
UNITED NATIONS -- Raising his voice strongly against terrorism, Prime Minister Narendra Modi Friday said that India is a country which has given the world 'Buddha' and not 'yudh' (war), and that is why when it raises its voice against terror, it not only has seriousness, but also anger.

---

(Sep 23 2019) - Kyiv Post : Bill signed on presidential impeachment
UKRAINE -- President Volodymyr Zelensky has signed a bill creating the procedure to impeach a president into law on Sept. 23. Previously, it was unclear whether the president could actually be removed from office under Ukrainian legislation. The impeachment law was one of Zelensky's campaign promises to Ukrainian voters.

---

(Sep 21 2019) - Palm Beach Post : Trump's call to Ukraine Leader
WASH D.C. -- President Donald Trump urged the new leader of Ukraine this summer to investigate the son of former V.P. Joe Biden, a person familiar with the matter said. Democrats condemned what they saw as a clear effort to damage a political rival, now at the center of an explosive whistleblower complaint against Trump.

---

(Sep 20 2019) - Denver Post : Walmart to stop selling all e-cigarettes
U.S.A. -- Walmart will stop selling e-cigarettes at its U.S. stores, the company said Friday, as vaping-related deaths and illnesses are rising across the country. The retailer attributed its decision to "growing federal, state and local regulatory complexity and uncertainty regarding e-cigarettes" and ...

---

(Sep 19 2019) - Wash Post : Iran warns U.S. of 'war' if attacked
DUBAI -- Iran warned Thursday that military action by the United States or Saudi Arabia would result in "all-out war," as the Trump administration weighs its response after blaming Iran for crippling strikes on the kingdom's oil infrastructure. Secretary of State Mike Pompeo condemned the remarks ...

---

(Sep 18 2019) - Huff Post : Number Of Abortions In U.S. Falls
NEW YORK -- The number & rate of abortions across the U.S. have plunged to their lowest levels since the procedure became legal in 1973, according to new figures released Wed. The report from the Guttmacher Institute, a research group that supports abortion rights, counted 862,000 abortions in the U.S. in 2017.

---

(Sep 16 2019) - Patriot Post : Clinton-Era Media Collusion and ...
U.S.A. -- There is a dramatic difference between public opinion that is held due to personal beliefs & independent choices & the propaganda-influenced narratives that are passed off as truth in today's news cycles. While Americans are correct in pointing to the absolute surveillance of Google, Facebook, & Big Tech ...

---

(Sep 15 2019) - Daily Post : Police arrest 62 for violence in Niger
NIGER -- Sixty-two political thugs were on Saturday arrested during the just concluded APC primaries. They were arrested for allegedly attacking innocent residents. The APC conducted its primary elections for aspirants for the positions of Chairmen and councilors for the forthcoming Nov. 30 council polls in the state.

---

(Sep 05 2019) - Activist Post : Psychiatry in Charge of Gun Control
WASH D.C. -- During the reign of Barack Obama, mass shootings prompted a White House declaration that community mental health centers would be created across America, in order to spot and treat persons before they committed violent acts. Now, under Trump, we are seeing a similar reaction, with a twist.

---

(Sep 02 2019) - Baghdad Post : Israel ready for any scenario
ISRAEL -- Prime Minister Benjamin Netanyahu said on Sunday that Israel was prepared for any scenario after a cross-border clash with Lebanon's Hezbollah, but neither side seemed eager for another conflict. Israel's military said anti-tank missiles from Lebanon targeted an army base and vehicles.

---

(Aug 25 2019) - New York Post : Trump lashes out at US media ...
WASH D.C. -- President Trump said other world leaders are asking with why the American media is "rooting" for the country "to fail" Sunday, following reports that he was blind-sided by the French inviting a top Iranian official to the G-7 summit. "The question I was asked most today ... " Trump wrote on Twitter.

---

(Aug 24 2019) - Saturday Evening Post : News of the Week
U.S.A. -- In the news for the week ending August 23, 2019, are a wristwatch, a movie to watch, some meat to eat, infeasible heat, and much more. Don't You Own a Cellphone ??? New Bond Movie Has a Title ... Spam News ... When You Wish Upon a Star ... Meanwhile, in an Alternate Universe ...

---

(Aug 22 2019) - China Post : New Power Party elects new leader
TAIPEI -- New Power Party (NPP) legislative caucus whip Hsu Yung-ming was elected chairman of the party by its decision-making committee Wednesday. Hsu succeeds Chiu Hsien-chih, who stepped down Aug. 12 to assume responsibility for the departure of NPP Legislator Freddy Lim and over alleged conflict of interest ...

---

(Aug 21 2019) - Post Register : Lots of feedback on vaccine rules
IDAHO FALLS -- People will have a chance to weigh in on the Dept of Health & Welfare's admin' rules at a public hearing in Idaho Falls on Friday. Judging from the public comment the dept has received so far, immunization requirements & a couple of rules related to medical testing for newborns & CPS could be hot topics.

---

(Aug 20 2019) - BRICS Post : Credit Agency rates BRICS Bank AAA
JAPAN -- The BRICS New Development Bank was assigned a 'AAA' foreign currency long-term issuer rating with a stable outlook by Japan Credit Rating Agency, Ltd (JCR) on Aug 20. In its press release, JCR stated that NDB's 'AAA' rating is based on its appraisal of the strong support for the Bank's operations ...

---

(Aug 18 2019) - Sunday Post : Queen attends Aberdeenshire church
SCOTLAND -- The Queen has attended a church service near her summer residence in Aberdeenshire. She arrived at Crathie Kirk, near Balmoral Castle, on Sunday morning, along with the Earl and Countess of Wessex, who are known as the Earl and Countess of Forfar while in Scotland.

---

(Aug 17 2019) - Frontier Post : India's clampdown continues ...
SRINAGAR -- Lockdown continued for a 13th consecutive day in occupied Kashmir to prevent people from holding demonstrations against India after revoking the special status of the Jammu & Kashmir earlier this month. According to Kashmir Media, 100's of people on Friday defied the curfew & took to the streets ...

---

(Aug 16 2019) - Activist Post : U.S. Military Designing A.I. Missiles ...
U.S.A. -- The U.S. military has long been obsessed with integrating artificial intelligence into weapons of war, and it appears that they are getting closer to the full-scale rollout of these systems. A couple of weeks ago I reported about a new type of facial recognition goggle that would help soldiers identify targets

---

(Aug 15 2019) - Post & Email : Gregg Jarrett Implicates Obama ...
CALIFORNIA -- On Thursday night's "Hannity," Fox News Legal Analyst Gregg Jarrett told host Sean Hannity that former White House occupant Barack Obama was aware of the FBI and CIA's counterintelligence probe and surveillance of members of the 2016 Trump presidential campaign.

---

(Aug 14 2019) - Salisbury Post : County assumes ownership of School
SALISBURY -- The Rowan County commissioners have given final approval to a loan to make capital improvements to Rowan-Salisbury Schools facilities & plan to use Erwin Middle School as collateral. The $7.1 million loan through STI Institutional & Gov't Inc. was approved at a July board meeting. It'll be a 10-yr loan.

---

(Aug 12 2019) - Nottingham Post : New war memorial out of bounds
NOTTINGHAM -- The landmark new war memorial in Nottingham which was opened by royalty at the end of June is currently out of bounds. The Duke of Kent, Prince Edward, formally unveiled the memorial on Victoria Embankment, in the Meadows, which names 13,501 people from Nottinghamshire who died in the First World War.

---

(Aug 11 2019) - Bangkok Post : Thousands rally in Hong Kong ...
HONG KONG -- Thousands of Hong Kong protesters rallied on Sunday, defying a police ban on marches in the Chinese-controlled territory and continuing a restive weekend of demonstrations which saw police fire teargas overnight. Anti-government protests took place in different locations across the Asian financial hub,

---

(Aug 10 2019) - Wash Post : Epstein dead after suicide
NEW YORK CITY -- Jeffrey Epstein, the politically connected financier and registered sex offender charged recently with sexually abusing dozens of young girls in the early 2000s, has died by apparent suicide while in jail, and the FBI is investigating, the Bureau of Prisons said Saturday.

---

(Aug 09 2019) - Conservative Post : The Greatest President Ever
CALIFORNIA -- While many insist that Trump is the WORST president ever, the exact opposite opinion is held by what appears to be a more quiet majority of Americans. Well, one person among that majority isn't keeping so quiet. Oscar-winning Hollywood actor Jon Voight hasn't been shy about his support for the president.
Estab. Jan 2008
---
Welcome to the newest on-line news service in the Porterville area. Our goal is to report the right news at the right time. In doing this, we believe that the community will get a greater sence of being connected.
---
The Right News @ The Right Time
---
Our second goal is to report above and beyond the main stream media.
---
Politically Inform and Educate
---
Our third goal is to politically inform and educate the voters and public at large.
---
A Conservative News Service
---
The Porterville Post is a Conservative on-line news service and when the Post makes a mistake in our reporting, we'll address it "Right Here" and if needed, with an appology. Please feel free to contact us with your comments or suggestions.
---
Writers | Columnists | Reporters
---
The Post - in the coming years - will be looking for new writers, columnists and reporters. We understand the need for new writers to have the chance of starting a new career and we'd like to offer a free internship at the Post.
---
---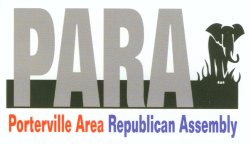 ---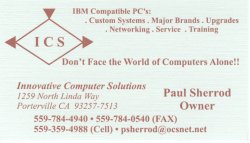 ---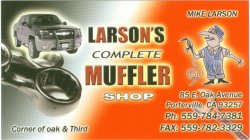 ---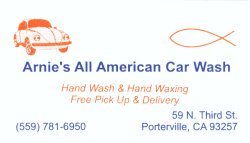 ---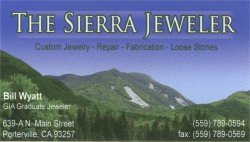 ---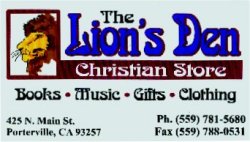 ---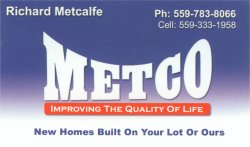 ---