The Porterville Post | On-Line News and Information | POST Papers
---
(Jul 18 2018) - Daily Post : Boko Haram: What we did ...
NIGERIA -- Frontline PDP presidential aspirant, Kabiru Tanimu Turaki, SAN, has recalled how the Goodluck Jonathan gov't supressed Boko Haram. He also said that the war against terror in the country had remained intractable because the current administration had failed to embrace global best practices of carrot & stick.

---

(Jul 17 2018) - Charlotte Post : City Ok's 2020 RNC Convention
NORTH CAROLINA -- Charlotte is bruised, but open to hosting the 2020 Republican Convention. City Council's 6-5 voted to move forward with the city's bid to host the nominating meeting came after 3 hours of contentious debate, in which 4 Dem's voted with Republicans to approve contracts with the RNC if Charlotte is picked.

---

(Jul 16 2018) - Seattle Post : Amazon's Prime Day ran into snags
NEW YORK -- Amazon's website ran into some early snags Monday on its much-hyped Prime Day, an embarrassment for the tech company on the shopping holiday it created. Shoppers clicking on many Prime Day links after the 3 p.m. ET launch in the U.S. got only images of dogs - some quite abashed-looking - with the words ...

---

(Jul 15 2018) - Post Star : Trump sets expectations low for summit
SCOTLAND -- President Trump is keeping expectation low for his high-stakes summit with Putin, saying "nothing bad is going to come out of it & maybe some good will come out." The president also said in an interview that he "hadn't thought" about asking Putin to extradite the 12 Russian military intelligence officers

---

(Jul 14 2018) - Vicksburg Post : 15-yr-old will be charged as an adult
MISSISSIPPI -- Vicksburg police have released the name of the 15-yr-old boy arrested in the July 9 shooting of a 17-yr-old girl. Keshawn Williams has been certified as an adult & charged with aggravated assault & drive-by shooting. The drive-by shooting charge involves an incident that occurred about 2:51 a.m.

---

(Jul 13 2018) - BRICS Post : We need a relationship with Russia
U.K. -- President Donald Trump said that a relationship with Russia would benefit the entire world, but warned that he had low expectations going into his summit meeting with Russian President Vladimir Putin next week. During his joint press conference with UK Prime Minister Theresa May at Buckinghamshire,

---

(Jul 12 2018) - Kathmandu Post : Dispute delays transit protocol ...
BEIJING -- The second consultative meeting for the Protocol to the Transit and Transportation between Nepal and China ended inconclusively in Beijing on Wednesday. Representatives of both parties failed to reach consensus on the text of the protocol during the two-day talks, diplomatic sources said.

---

(Jul 11 2018) - Post Athenian : Trump Strengthening Medicaid ...
WASH D.C. -- The Centers for Medicare Medicaid Services is implementing new & enhanced initiatives designed to improve Medicaid program integrity through greater transparency & accountability, strengthened data, innovative robust analytic tools. "The initiatives are to help strengthen & preserve the foundation"

---

(Jul 10 2018) - Wash Post : Trump hits combative notes ...
BRUSSELS -- President Trump signaled Tuesday that he was ready for a transatlantic brawl as he embarked on a consequential week of international diplomacy, taking aim at vulnerable British Prime Minister Theresa May and suggesting that meeting with Russian President Vladi­mir Putin might be easier than talking with Western allies at the NATO summit here.

---

(Jul 09 2018) - Kyiv Post : War pushes Ukrainians to leave ...
CANADA -- Ukraine keeps losing young & talented people: every month some 100,000 Ukrainians become labor migrants, according to Ukrainian Foreign Minister Pavlo Klimkin. Endemic corruption, Russia's war in eastern Ukraine & the impact on Ukraine of the global economic crisis have made the perennial flow of emigrants even more pronounced over the last four years.

---

(Jul 08 2018) - Nagaland Post : UN cuts peacekeeping budget
INDIA -- The UN has cut its peacekeeping budget by $610 million for the current year while the monthly payment to each peacekeeper will increase by $96 per month. The $6.69 billion-budget for this accounting year starting July 1 that was adopted by the General Assembly, is 8.36% less than the previous year's $7.3 billion.

---

(Jul 07 2018) - Internet Post : Fuel removal from Fukushima delayed
JAPAN -- The operator of the damaged Fukushima Daiichi nuclear power plant says work to remove spent nuclear fuel from a cooling pool at one of its reactors may be delayed. A total of 566 fuel units remain in the cooling pool at the No.3 reactor, which suffered a meltdown in 2011.

---

(Jul 06 2018) - SCM Post : US, China Trade War Begins
CHINA -- The "biggest trade war in economic history" began Friday, China said after Washington & Beijing traded 25% tariffs on $34 billion worth of each other's goods, while analysts warned the dispute was set to run & run. A former deputy commerce minister, said the conflict would affect the global value chain

---

(Jul 03 2018) - Monroe County Post : Private island for sale in upstate
NEW YORK -- A private island is for sale right here in upstate New York. Whiskey Island maintains its name from the prohibition era, that's according to New York Upstate's website. This historic private island is for sale for $2.4 million. It was even featured on HGTV's "Island hunters."

---

(Jul 02 2018) - Greanville Post : After the Amazon Tax Betrayal
SEATTLE -- In the wake of the Democratic Party's shameful betrayal over Seattle's Amazon Tax - a tax on big business to fund affordable housing - housing costs continue to soar off the charts with no solution in sight. Nearly half of the city's renters are now officially "rent burdened" ...

---

(Jul 01 2018) - Conservative Daily Post : Historic Roundup Nets 601
WASH D.C. -- AG Jeff Sessions must really like the new Parliament album. Thursday he proudly declared himself top "Medicaid Fraud Dog," when he announced the DOJ's "historic" roundup of 601 doctors, nurses & other licensed medical professionals in a $2 billion bust. "We're just getting started," Sessions promised.

---

(Jun 30 2018) - Christian Post : Romans 13 & Right of Revolution
AMERICA -- As the U.S. readies to celebrate its independence on July 4, a thorny question arises: Does the Bible really grant nations - especially those once labeled "Christian" - the right of revolution, or do the Scriptures forbid it? Rom 13, now much in focus because of AG Jeff Sessions' appeal to the passage ...

---

(Jun 29 2018) - Irish Post : Ireland's Sex trafficking report
IRELAND -- Ireland has been deemed a Tier 2 country due to its lack of supports for victims of sex trafficking. The 2018 Annual Trafficking in Persons report has concluded that Ireland doesn't meet the minimum standards for eliminating sex trafficking. While the govt made significant efforts to meet minimum standard ...

---

(Jun 28 2018) - Pakistan Christian Post : Pope accepts resignations
VATICAN -- In his latest move on the Chilean clerical abuse crisis, Pope Francis has accepted the resignation of Bishop Horacio del Carmen Valenzuela Abarca of Talca, and Bishop Alejandro Goiæ Karmeliæ of Rancagua, both of whom have come under fire for their reaction to abuse allegations. Valenzuela, is one of four ...

---

(Jun 27 2018) - Huffington Post : SCOTUS Hands Trump Victory
WASH D.C. -- In 5-4 rulings this term, the court upheld Trump's travel ban for certain Muslim-majority countries and said it was OK for states to aggressively cancel voter registrations. By the same breakdown, it approved Texas' electoral maps tainted by claims of intentional racial discrimination and struck down a California law requiring pregnancy counseling centers to notify people about the availability of abortion.

---

(Jun 26 2018) - Punching Bag Post : Warrent Needed for What ???
WASH D.C. -- Late last week, the U.S. SCOTUS ruled that gov't officials have to obtain a warrant in order to track an individual's location data via cell phone records over an extended period of time. "In the 5-4 ruling, the court said police generally need a court-approved warrant to get access to the data ..."

---

(Jun 25 2018) - Frontier Post : ECP rejects appeals seeking delay
ISLAMABAD -- The Election Commission of Pakistan has rejected all 3 petitions seeking a delay in the General Election which is scheduled for July 25. On Monday, Chief Election Commissioner, Justice (retd) Raza had reserved his verdict after hearing the petitions requesting a delay in the general election of 2018.

---

(Jun 24 2018) - Baghdad Post : Iraqi govt formation may be delayed
IRAQ -- MP Massoud Haider said the new Iraqi gov't formation may get delayed until the beginning of 2019 due to parliamentary elections results crisis. Haidar pointed out that the process of manual recount of parliamentary elections votes & sending its results to the Fed' Supreme Court & the parliament to get approved ...

---

(Jun 23 2018) - Saturday Evening Post : News of the Week
AMERICA -- I don't have air conditioning in my apartment, so in the summer I keep my windows open all the time. I live in a neighborhood with a lot of businesses and traffic, not far from both downtown and the highway. That means, unlike during fall and winter, every sound that happens outside, I hear in my apartment.

---

(Jun 22 2018) - Patriot Post : What 'Fake News' looks like
U.S.A. -- The cover of the latest issue of Time magazine features two individuals. One is a little Honduran girl crying while juxtaposed and looking down at her is President Donald Trump. The caption reads, "Welcome to America." The clear message being sent by the leftist magazine is that this poor little girl is alone ...

---

(Jun 21 2018) - Gwinnett Daily Post : Melania Trump visits border
TEXAS -- First lady Melania Trump touched down in McAllen, Texas, Thursday for making a publicly unannounced and hastily planned trip to get a firsthand look at the crisis affecting immigrant families at the US border. "I want to thank you for your hard work, your compassion and your kindness," the first lady said ...

---

(Jun 20 2018) - Conservative Post : New Executive Order Signed
WHITE HOUSE -- President Trump has signed the executive order to keep families together at the border. Trump says the 'zero-tolerance' prosecution policy will continue. " "This has been going on for 60 years. 60 years nobody's taken care of it, nobody's had the political courage to take care of it, but we're going to take care of it," Trump said.

---

(Jun 19 2018) - Jerusalem Post : Common ground emerging on Syria
GENEVA -- Senior officials from Iran, Russia & Turkey held substantive talks Tues on how Syria's constitutional committee will be set up & function, more talks are planned within weeks, UN Syria envoy Staffan de Mistura said. "During the meeting, constructive exchanges & substantive discussions took place ...

---

(Jun 18 2018) - Amsterdam Post : Underpromise and overdeliver ...
BERLIN -- Speech by Dutch 'PM' for the Bertelsmann Stiftung in Berlin on Mar 2. Ladies & gentlemen, You had a choice today. You could've listened to a speech in the UK about a future without Europe. Or a speech in Berlin by someone who believes in Europe & wants to talk about the best way to move forward with Europe.

---

(Jun 17 2018) - Sunday Post : "We must do better ... "
SCOTLAND -- The Scottish Govt has admitted some of the country's most vulnerable children have been let down by the system & vowed to do better. Children's minister spoke out after we detailed the shocking life story of just one girl who by 14 had dropped through cracks into a nightmarish world of drugs & exploitation.

---

(Jun 16 2018) - India Post : 30 products from US increasing
NEW DELHI -- India has submitted a revised list of 30 items, including motor cycle, certain iron & steel goods, boric acid & lentils, to the WTO on which it proposes to raise customs duty by up to 50%. As duties hiked by the US on certain steel & aluminum products would have implications of about $241 million on India,
Estab. Jan 2008
---
Welcome to the newest on-line news service in the Porterville area. Our goal is to report the right news at the right time. In doing this, we believe that the community will get a greater sence of being connected.
---
The Right News @ The Right Time
---
Our second goal is to report above and beyond the main stream media.
---
Politically Inform and Educate
---
Our third goal is to politically inform and educate the voters and public at large.
---
A Conservative News Service
---
The Porterville Post is a Conservative on-line news service and when the Post makes a mistake in our reporting, we'll address it "Right Here" and if needed, with an appology. Please feel free to contact us with your comments or suggestions.
---
Writers | Columnists | Reporters
---
The Post - in the coming years - will be looking for new writers, columnists and reporters. We understand the need for new writers to have the chance of starting a new career and we'd like to offer a free internship at the Post.
---
---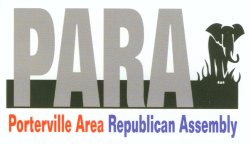 ---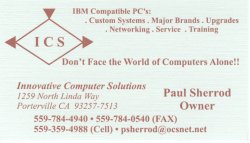 ---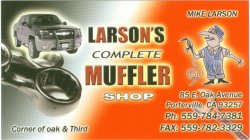 ---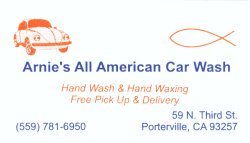 ---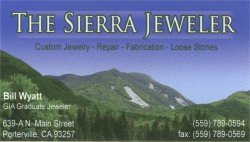 ---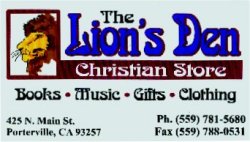 ---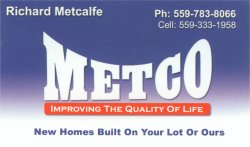 ---