The Porterville Post | On-Line News and Information | POST Papers
---
(May 06 2021) - Minn Post : Facebook's 'supreme court' judgement
CALIFORNIA : On Wednesday, May 5, Facebook's quasi-independent Oversight Board upheld the company's suspension of former President Trump from the platform & Instagram. The decision came 4 months after Zuckerberg banned Trump "indefinitely" for his role in inciting the Jan. 6 riot at the U.S. Capitol.

---

(May 05 2021) - Jakarta Post : Young Japanese look to Karl Marx
JAPAN : As the global challenge of climate change mounts & the pandemic magnifies economic inequalities, Karl Marx, who pointed to the contradictions & limitations of capitalism, is gaining new admirers in Japan, particularly among the young. The boom has been ignited by an associate professor at Osaka City University

---

(May 04 2021) - India Post : India reports new COVID-19 cases
NEW DELHI : India registered a slight dip in COVID-19 cases as it registered 3,57,229 new coronavirus infections in the last 24 hours, informed the union health ministry on Tues morning. With this, the cumulative count of the cases has gone up to 2,02,82,833. The daily spike had reached its peak of over 4 cases ...

---

(May 03 2021) - Bangkok Post : Rising border fears of virus spill
THAILAND : Security along all borders is at its highest amid fears that coronavirus cases from neighbouring countries could enter Thailand and deepen the already critical Covid-19 outbreak that has the death toll climbing at an alarming rate. The most serious concern centres on the border with Myanmar in Kanchanaburi

---

(May 02 2021) - Sunday Post : Uncertainty surrounds COP26 ...
SCOTLAND : It has been billed as a pivotal moment in the worldwide battle against climate change, one of the last opportunities to agree the reductions in greenhouse gas emissions to curb global warming. However, how the 26th UN Climate Change Conference of the Parties (COP26) will go ahead in Glasgow in Nov ...

---

(May 01 2021) - Wash Post : Taliban warns of counterattacks ...
KABUL : The Taliban issued a warning to U.S. and NATO forces of possible counterattacks as the original May 1 deadline for the complete withdrawal of foreign troops passed, stoking fears of increased violence in response to President Biden's extension of the U.S. withdrawal from Afghanistan to Sept. 11.

---

(Apr 30 2021) - Patriot Post : Biden's Address Was Full of Lies
WASH D.C. : Joe spins a fantasy world where he and the Dem's are saving America, when the opposite is the case. Biden has a long history of uttering untruths & his speech before a slimmed-down joint session of Congress on Wed constituted a continuation of that practice. Thankfully, few Americans watch ...

---

(Apr 28 2021) - Daily Post : US AFRICOM will recolonise ...
NIGERIA : President Muhammadu Buhari has been warned against his recent call for the U.S. to relocate its US Africa Command (AFRICOM) from Germany, to Africa, close to the Theatre of Operation. Buhari admonished the international community to support Nigeria in tackling growing security challenges to avoid spillovers.

---

(Apr 27 2021) - Conservative Post : Dems Go Berserk When ...
NORTH CAROLINA : North Carolina's first black lieutenant gov' ripped into House Dem's this week for their continued efforts to malign voter ID measures as racist. Democrats compared the requirement for absentee voters to possess a free, valid ID to the horrors of murder & racial suppression in the Jim Crow era ...

---

(Apr 26 2021) - Activist Post : "VerifyStudents" = "ImmuniTrax" ...
U.S.A. : In this video, I examine the "ImmuniTrax" digital vaccine passport that is linked to the "VerifyStudents" platform provided by a company called Corporate Screening, which partners with Platinum Educational Group's "competency-tracking" services through "computer adaptive testing." Digging deeper ...

---

(Apr 25 2021) - NY Post : Border security worse under Biden
U.S.A. : Three times as many Americans say security at the US-Mexico border is worse under Joe Biden than it was under President Donald J. Trump — while the commander in chief has the third-lowest approval rating for a president at their first 100 days in office, according to a pair of polls released Sunday.

---

(Apr 24 2021) - Richardson Post : FAKE RAPE CRISIS FAILS
AUSTRALIA : The activists who plotted the recent rape crisis campaign could have done with more due diligence regarding the key women they chose to tug the public's heartstrings. It's becoming increasingly obvious that they have hitched their wagon to young activists seeking a lot more than 15 minutes of fame.

---

(Apr 23 2021) - Maravi Post : Constitution does not recognize ...
MALAWI : Malawi laws do not recognize 'ruling parties', za ruling party timanena ndi ifeyo. Legally, I do agree then that there is no Tonse gov't, neither is there a Malawi Congress Party (MCP) gov't despite the fact that tambala was on the ballot. What we have is a dully elected President & duly elected Vice President.

---

(Apr 22 2021) - Copenhagen Post : Nay to May Day ???
COPENHAGEN : Yet another famous Copenhagen event has bitten the dust with news that May Day has been cancelled for the second straight year. According to leading union organisation and event organiser FH, the workers' day celebration on May 1 in Fælledparken will not take place due to the COVID-19 pandemic.

---

(Apr 21 2021) - Borneo Post : 'Joints for jabs' ... ???
NEW YORK : New Yorkers who have been vaccinated against Covid-19 were able to get an unlikely freebie Tuesday: a marijuana joint. Activists celebrating the recent legalisation of recreational pot in New York state handed out free doobies in Manhattan to anyone with proof they had received at least one vaccine shot.

---

(Apr 20 2021) - Latin Post : U.S. to Increase Travel Restrictions
WASH D.C. : Recognizing the unprecedented risk to travellers from the COVID-19 pandemic, the State Dept' emphasized the boosting of its 'Do Not Travel guidance' to around 80% of countries around the world. The update is a result of a significant increase in the number of countries at Level 4.

---

(Apr 19 2021) - Jerusalem Post : Russian military build-up numbers
UKRAINE : More than 150,000 Russian troops have massed on Ukraine's border and in annexed Crimea, the EU's top diplomat Josep Borrell said on Monday after EU foreign ministers were briefed Ukraine's foreign minister. "It is more than 150,000 Russian troops massing on the Ukrainian borders and in Crimea.

---

(Apr 18 2021) - Post & Courier : Charleston march gets heated
CHARLESTON : Scores of protesters marched in downtown Charleston in opposition to police killings in Minnesota & Chicago the past several weeks, facing off with police as they tried to go down King Street just under a year after riots threw the street into chaos following a peaceful protest. Police told organizers ...

---

(Apr 17 2021) - Greanville Post : Spreading CIA's Fraud re: Russia
U.S.A. : That Russia placed "bounties" on the heads of U.S. soldiers in Afghanistan was one of the most-discussed & consequential news stories of 2020. It was also, as it turns out, one of the most baseless — as the intel' agencies who spread it through their media spokespeople now admit, largely because ...

---

(Apr 16 2021) - Cape Breton Post : We can't heal without answers
CANADA : A spontaneous public memorial erupted soon after the 22 murders, one year ago this weekend. An unbridled riot of teddy bears and flowers, flags and photos, notes of love and loss arrived in the tiny Nova Scotia community of Portapique in the arms of mourners from near and far, despite pandemic restrictions.

---

(Apr 15 2021) - Jesuit Post : U.S. Catholic Church Needs Migrants
U.S.A. : In this milieu of a globalized world, the Catholic Church acts transnationally across borders and, in fact, is well positioned to do so. Migrants, particularly the large percentage from Latin America who are Catholic, benefit in various ways from the transnational nature of the Church.

---

(Apr 14 2021) - Orissa Post : 9/11 attacks can't explain war ...
WASH D.C. : Joe Biden says the September 11 attacks "cannot explain" why US forces should remain in Afghanistan 20 years later and that "it is time for American troops to come home" from the country's longest war. Biden, in excerpts of a speech to the nation he plans later Wednesday, says the US cannot continue ..."

---

(Apr 13 2021) - Christian Post : Bad news in SCOTUS's ruling ...
WASH D.C. : It was good to see the Supreme Court rule yet again in favor of religious liberty in the latest California case to reach the nation's highest court. Yet the fact that the ruling was only 5 to 4, not to mention some of the reasoning in the dissenting opinion, gives real cause for concern.

---

(Apr 12 2021) - Post & Email : India Ignores Media ...
INDIA : India is just one of an increasing number of "developing" nations which have recognized that the mad rush toward a "net zero carbon" economy does not serve the interests of their ordinary citizens. These countries are also waking up to the fact that serving the public interest necessitates major increases ...

---

(Apr 11 2021) - Hippocratic Post : Suicidality re: childbearing
AUSTRALIA : A study by University of Queensland researchers has highlighted the need to improve mental health assessments & pathways to care for childbearing women who experience suicidality. Queensland Centre for Mental Health Research researcher Dr Meurk said suicide was the leading cause of maternal death ...

---

(Apr 10 2021) - SCM Post : China has a privacy problem
CHINA : Fans of James Bond will be familiar with scenes showing the British spy sauntering into a hotel room, before looking around & using a handheld counter-intel device to sweep for bugs & cameras. Well, given the scale & multitude of privacy violations in China these days, it's smart to be as alert as Bond.

---

(Apr 09 2021) - National Post : Canada reluctant to side with Taiwan
CANADA : These are tense times to be on the frontlines of democracy. Chinese incursions into Taiwan's air defence zone has left the residents feeling under siege — besides the 15 planes that entered Taiwanese airspace earlier this week, a Chinese aircraft carrier is carrying out ... "routine exercises" ...

---

(Apr 08 2021) - African Post : Ground Zero Of Ebola Outbreak
GUINEA : Deep within the forest region of Guinea, a tall, charred tree trunk stands at the edge of this village. A year ago, after a toddler became ill & death began to spread, villagers learned that the bats in that very tree were likely the reason they had become sick. So they took dry leaves & grass, set them afire ...

---

(Apr 07 2021) - Threat Post : Cyberattacks Becoming Acts of War
U.S.A. : The Cold War concept isn't outdated. In the decades since the fall of the Soviet Union, the battleground has simply shifted from conflicts between ideological proxy governments to cyberspace. And the opponents have grown from a few primary nations into a broad range of sovereign threat actors.

---

(Apr 06 2021) - Denver Post : Can police spy on you w/o a warrant ?
COLORADO : The Colorado Supreme Court will take up the scope of modern police surveillance in a case Tues that centers on officers in Colorado Springs who used a camera to spy on a man for 3 months without getting permission from a court. The justices will consider if police violated the man's constitutional rights ...

---

(Apr 05 2021) - Post Register : Bills Idaho legislators introduced
BOISE : At the beginning of each year, legislators gather for approximately 3 months at the Capitol with the intention of creating or modifying laws. All these laws start as bills. Each of them starts as a routing slip, also known as an RS. These routing slips are presented before a committee that votes on whether ...

---

(Apr 04 2021) - China Post : India recovers bodies of troops
PATNA : India on Sunday recovered the bodies of 20 police & paramilitary troops killed in a gun-battle with Maoist rebels a day earlier in the forests of the eastern Chhattisgarh state, police said. The fighting erupted Saturday when Indian security forces, acting on intelligence, raided a rebel hideout in Bijapur dist.

---

(Apr 03 2021) - Huff Post : Pressure Mounts On Corporations
ATLANTA : Liberal activists are stepping up calls for corporate America to denounce Republican efforts to tighten state voting laws, and businesses accustomed to cozy political relationships now find themselves in the middle of a growing partisan fight over voting rights. Pressure is mounting on ...

---

(Apr 02 2021) - Goulburn Post : New Blood Clot Warning ...
AUSTRALIA : The Therapeutic Goods Administration is investigating whether a Victorian man developed blood clots because of the AstraZeneca vaccine, as authorities warn healthcare providers to keep an eye out for symptoms. Australia's acting chief medical officer said the vaccine had not been linked to thrombosis,

---

(Apr 01 2021) - Pittsburgh Post : Johnson & Johnson vaccine woes ...
U.S.A. : The company at the center of quality problems that led Johnson & Johnson to discard an unknown amount of its coronavirus vaccine has a string of citations from U.S. health officials for quality control problems. Emergent BioSolutons, a little-known company at the center of the vaccine supply chain ...

---

(Mar 31 2021) - Pakistan Christian Post : Sufi conference held
ANANTNAG : A day-long conference on the iconic role of Sufis and Reshis in the cultural transformation of Kashmir was held in the southern district of Anantnag by J&K Youth Development Forum. The conference was attended by people from all walks of life, including those from far flung areas of Anantnag.

---

(Mar 30 2021) - Minn Post : What's in the H.R.1 bill ???
WASH D.C. : In early Mar, House Dem's passed H.R.1, an enormous anti-corruption & voting rights reform bill also known as the For the People Act. H.R.1 also includes a major overhaul of campaign finance & redistricting laws. The bill will next face a vote in the Senate, where it has a tough road ahead ...
Estab. Jan 2008
---
Welcome to the newest on-line news service in the Porterville area. Our goal is to report the right news at the right time. In doing this, we believe that the community will get a greater sence of being connected.
---
The Right News @ The Right Time
---
Our second goal is to report above and beyond the main stream media.
---
Politically Inform and Educate
---
Our third goal is to politically inform and educate the voters and public at large.
---
A Conservative News Service
---
The Porterville Post is a Conservative on-line news service and when the Post makes a mistake in our reporting, we'll address it "Right Here" and if needed, with an appology. Please feel free to contact us with your comments or suggestions.
---
Writers | Columnists | Reporters
---
The Post - in the coming years - will be looking for new writers, columnists and reporters. We understand the need for new writers to have the chance of starting a new career and we'd like to offer a free internship at the Post.
---
---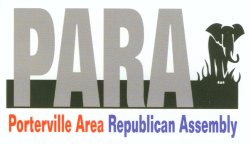 ---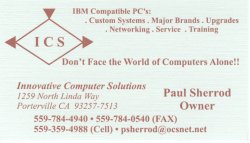 ---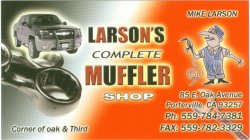 ---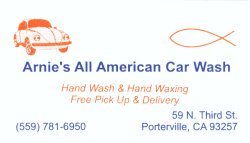 ---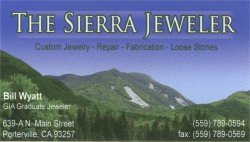 ---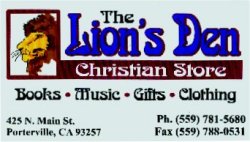 ---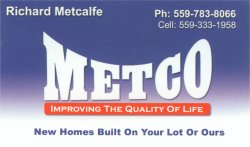 ---