The Porterville Post | On-Line News and Information | POST Papers
---
(Apr 19 2018) - Huffington Post : Giuliani Joins Trump's Legal Team
NEW YORK -- President Trump's legal team has a new member: Rudy Giuliani. The former prosecutor & N.Y. City mayor told The Washington Post that he plans to help the president navigate Mueller's special counsel investigation. "I'm doing it because I hope we can negotiate an end to this for the good of the country ... "

---

(Apr 18 2018) - Jerusalem Post : Trump wishes Israel happy 70th
WHITE HOUSE -- United States, President Donald J. Trump, wished Israeli Prime Minister Benjamin Netanyahu and Israel a happy 70th Independence Day on Twitter. "We have no better friends anywhere. Looking forward to moving our Embassy to Jerusalem next month!"

---

(Apr 17 2018) - Conservative Daily Post : Gas Hike Doom for Dem's
CALIFORNIA -- Left-leaning California democrats made a fatal mistake by burdening the state's citizens with the 2nd highest gas tax in the nation. Polls show last year's crushing fuel cost increase spells doom for their socialist schemes & chances of dem's being reelected. Seats up for grabs in the mid-terms ...

---

(Apr 16 2018) - Financial Post : Blockchain has come to Bay St ...
CANADA -- Blockchain has come to Bay Street & corporate Canada is giving it considerable thought. Last week, chief investment officers & investors at some of Canada's top pension funds & financial firms met with one of the leading authorities on the technology: Bridget van Kralingen, IBM Corp.'s sen vp ...

---

(Apr 15 2018) - Pakistan Christian Post : Forced rapes & conversions
KARACHI -- Dr. Nazir S Bhatti, Founder President of Pakistan Christian Congress PCC in a statement issued here today by Central Secretariat have said that when Pakistani PM Shahid Abbasi, COAS General Bajwa & CJ Justice Saqib will express publicly shame of Pakistan on kidnapping, gang rape & enforced conversion(s) ...

---

(Apr 14 2018) - Saturday Evening Post : Opinions of Ayn Rand
AMERICA -- For years, many journalists & academics dismissed her as a crank, most critics judged her books as tedious & shallow. But many readers disagreed, and The Fountainhead & her next novel, Atlas Shrugged, became huge best sellers that never went out of print. In '91, Atlas Shrugged was named the 2nd most influential book

---

(Apr 13 2018) - Balkans Post : Leaders exchange warm messages ...
IRAN -- Ismail Haniyeh, head of the political bureau of the Palestinian Islamic Resistance Movement (Hamas), on 18 January 2018 sent a letter to Ayatollah Seyyed Ali Khamenei, Iran's Leader of the Islamic Revolution, praising Iran's stance on Jerusalem (al-Quds). Pointing to the dimensions of a major conspiracy ...

---

(Apr 12 2018) - Frontier Post : NAB's probe, lies have surfaced
ISLAMABAD -- Former prime minister Nawaz Sharif said on Thursday that National Accountability Bureau's probe and lies has surfaced in front of everyone. Speaking to journalists outside accountability court, he hoped of receiving justice from the court as nothing significant is present in the case.

---

(Apr 11 2018) - Activist Post : Facebook Censorship: MSM's Solution
AMERICA -- The problem with Facebook started a long time ago. They used their money to promote their social media operations, and tons of users jumped on board, believing that conventional rules of free speech applied. That was a mistake. The mistake was on the level of believing the military-industrial complex ...

---

(Apr 10 2018) - The Post : Fuel hike coming for Aucklanders
NEW ZEALAND -- The Govt released its 10-yr Govt Policy Statement on Land Transport last week. Safety is the top priority, followed by access, the environment & value for money. The GPS helps to direct money from petrol taxes & road user chargers from the National Land Transport Fund into things the govt wants to achieve ...

---

(Apr 09 2018) - Conservative Post : Truth about child refugees ...
BRITAIN -- Nearly 2/3 of 'child' refugees who were questioned about their real age after coming to Britain were found to be adults, an official report has found. In one year, 65% of asylum seekers assessed after claiming to be juveniles were over 18. The report, by immigration watchdog David Bolt, revealed ...

---

(Apr 08 2018) - Punching Bag Post : Rogue Cellphone-Spying in D.C.
WASH D.C. -- The U.S. govt has finally publicly acknowledged that foreign spies & criminals are attempting to intercept calls & messages by tracking White House officials' cellphones. To capture the intel, cellphone-site simulators are being used by spies to get access to messages. These devices are discreet and ...

---

(Apr 07 2018) - Yorkshire Post : Rethinking stop & search
U.K. -- Labour and Conservative MPs in the region urged the Prime Minister to take action with stabbings in England at their highest level in seven years and an outcry over the 50 murders that have taken place in London this year. They stressed knife crime is also rising in Yorkshire, blaming cuts to police and

---

(Apr 06 2018) - Post & Courier : U.S. Rep. pulls out loaded gun
SOUTH CAROLINA -- South Carolina Republican congressman is not backing down from critics after he pulled out his own personal - and loaded - .38-caliber Smith & Wesson handgun during a meeting with constituents Friday. U.S. Rep. Ralph Norman, R-Rock Hill, told The Post and Courier he pulled out the weapon and ...

---

(Apr 05 2018) - Camas Post : Murder suspect remains at large
OREGON -- The assault happened almost exactly 5 yrs ago, April 7, 2013. According to Multnomah County, Oregon Circuit Court documents, this was when a man named Jose Fernandez, AKA Guillermo Juarez, attempted to harm his girlfriend, Luz Guitron, in front of the couple's young son. A grand jury indicted the man for ...

---

(Apr 04 2018) - China Post : China matches US tariff threat
CHINA -- China, Wed, responded to the Trump's planned tariffs on $50-billion worth of Chinese products with proposed tariff increases for goods including soybeans, planes, cars & chemicals. China's Commerce & Finance Ministries said Beijing's list of 25% additional tariffs on US goods covered 106 items

---

(Apr 02 2018) - Pittsburgh Post : Bad news for election security
PENNSYLVANIA -- One county official claims his voting machines are unhackable. Another admits hers are old, but the county can't afford to buy new ones. A third says he's waiting for the state to tell him which new voting machines are safest for voters. At a time of national concern over foreign interference in elections

---

(Apr 01 2018) - Christian Post : 5 Facts re: Resurrection Sunday
JERUSALEM -- Easter is not only the oldest but also the most important day of a year for the church and Christians. Here are five important facts about this day, which is also known as the Resurrection Sunday. Easter commemorates the resurrection of Jesus. The Gospel of Luke records in chapter 24 verses 2 and 3 ...

---

(Mar 31 2018) - National Post : UN security council members clash
NEW YORK -- U.N. Secretary-General Antonio Guterres called for an independent investigation into deadly clashes in Gaza between Palestinians & Israeli troops, while Security Council members urged restraint on both sides. The council didn't decide on any action or joint message after an emergency meeting Friday evening.

---

(Mar 30 2018) - NY Post : Shot ... 7 times from behind
SACRAMENTO -- A pathologist hired by attorneys for the family of an unarmed man killed by Sacramento police says an independent autopsy shows Stephon Clark was shot 7 times from behind & took up to 10 minutes to die. Dr. Bennet Omalu told a news conference that Clark was shot in the right back side of the neck and ...

---

(Mar 29 2018) - Jesuit Post : The Comfort of Failure
AMERICA -- There's a common expression in Spanish that says, "el que no arriesga no gana" roughly translated to "the one who risks nothing, gains nothing." Though it probably originated in the gambling industry, the phrase points to a greater truth ... being afraid to lose can seriously limit our achievements in life.

---

(Mar 28 2018) - Post News : NASA delays launch 'til 2020
NASA -- The US space agency NASA has delayed the launch of world's largest space telescope 'James Webb Space Telescope' until May 2020. The most powerful space telescope ever built, the Webb telescope is considered to be the successor to NASA's 26-yr-old Hubble Space Telescope. The announcement on Tuesday ...

---

(Mar 27 2018) - Monroe County Post : Local soldier missing ...
NORTH CAROLINA -- 25-yr-old Sgt. Carl Seeman of Churchville is stationed at Fort Bragg, North Carolina when he disappeared over the weekend. The soldier's family says his truck & cell phone were found in a parking lot. A family desperate for answers is pleading for help in the search for a missing soldier from Churchville.

---

(Mar 26 2018) - Bangkok Post : 'Old-school' villainy runs riot
THAILAND -- The arrest of 4 Thais embroiled in the abduction of two cosmetics businessmen who were held for a 5-million-baht ransom this month is another case of an "old-school" crime which has affected both Thais & foreigners in Thailand. The first 3 suspects were apprehended by Crime Suppression Division (CSD) ...

---

(Mar 25 2018) - Palm Beach Post : Double murder-homicide ...
FLORIDA -- A 44-year-old man shot and killed his wife and her sister at their home early Sunday morning before turning the gun on himself, Delray Beach Police said. Four children ranging in age from 5 to 14 were inside the house at the time of the shooting, said Dani Moschella, a Delray Beach Police spokeswoman.

---

(Mar 24 2018) - Gwinnett Daily Post : March for our Lives
ATLANTA -- As thousands gathered outside the Center for Civil & Human Rights in Atlanta on Saturday morning, chants of "never again" & "enough is enough" filled the air amidst signs that read, "Arms are for hugging; protect children, not guns." Across the nation, students, teachers, parents, political leaders and ...

---

(Mar 23 2018) - BRICS Post : We are ready for a trade war
CHINA -- The Foreign Ministry on Friday said that it did not want a trade war with the US and that any such development would harm both countries, but vowed to retaliate on hundreds of US exports. Foreign Ministry spokesperson Hua Chunying warned that Washington should not underestimate Bejing's resolve and ...

---

(Mar 22 2018) - Kathmandu Post : Grant voter rights to ...
NEPAL -- The Supreme Court has directed the govt to ensure voting rights for the Nepali citizens living in foreign countries. A division bench of Justices Sapana Malla Pradhan and Purushottam Bhandari issued the directive in the name of govt to ensure voting rights to Nepalis living outside the country.

---

(Mar 21 2018) - Activist Post : Majority Of Americans Agree ...
AMERICA -- A majority of Americans believe an unelected faction or cabal of officials is orchestrating policy in Wash., D.C., according to a new poll. The survey of 803 adults was conducted by the Monmouth University Polling Institute from Mar 2nd - 5th, and found that 74% believed in a "deep state" ...

---

(Mar 20 2018) - Wash Post : FTC opens Facebook investigation
U.S.A. -- The Federal Trade Commission has opened an investigation into Facebook following reports that a data analytics firm that had worked with the Trump campaign had improperly accessed names, "likes" and other personal information about tens of millions of the social site's users without their knowledge.

---

(Mar 19 2018) - Seattle Post : Uber self-driving car, kills
ARIZONA -- Police in a Phoenix suburb say one of Uber's self-driving vehicles has struck & killed a pedestrian. Police said that the vehicle was in autonomous mode with an operator behind the wheel when the woman walking outside of a crosswalk was hit. Sgt. Elcock says in an email that the accident happened overnight ...

---

(Mar 18 2018) - Orissa Post : Tough stance on N.K. urged
SYDNEY -- Southeast Asian leaders & Australia's Prime Minister Sunday called on North Korea to end its nuclear program & urged UN countries to fully implement sanctions against the country. Leaders at the first summit of the Association of Southeast Asian Nations to be held in Australia issued a joint statement ...

---

(Mar 17 2018) - Wash Post : Andrew McCabe ... FIRED
WASH D.C. -- Attorney General Jeff Sessions late Friday night fired former FBI deputy director Andrew Mc­Cabe, a little more than 24 hours before McCabe was set to retire — a move that McCabe alleged was an attempt to slander him and undermine the ongoing special counsel investigation into the Trump campaign.

---

(Mar 16 2018) - Post & Email : THE ISSUE IS FORGERY ...
WASH D.C. -- In response to a Washington Post editorial making the case for why Sen. Elizabeth Warren (D-MA) should not undergo a DNA test to determine whether or not her claim of Native American blood is accurate and compared Warren's situation to "birtherism," on Friday morning The Post & Email sent the following email ...

---

(Mar 15 2018) - Threat Post : Customer Jewelry Data Exposed
CHICAGO -- A misconfigured Amazon (S3) Simple Storage Service bucket, managed by a Walmart jewelry partner, left personal details and contact information of 1.3 million customers exposed to the public internet. The S3 repository containing a MSSQL database backup belongs to MBM Company, a Chicago, Ill.

---

(Mar 14 2018) - Minnesota Post : Students walk out re: gun violence
MINNESOTA -- Students & staff in dozens of Minnesota schools walked out of their classes at 10 a.m. Wednesday to honor the victims of last month's school shooting in Florida & to call for tougher gun-control laws. The protest, part of a coordinated national demonstration in support of tougher gun laws ..."

---

(Mar 13 2018) - Jersey Evening Post : Sexually exploiting kids
JERSEY -- Last year, 25 cases of suspected or potential cases of child sexual exploitation were assessed by the police. And as part of this year's National Awareness Day on Sunday, a range of organisations and senior leaders in Jersey are joining forces to raise awareness of child sexual exploitation this week.

---

(Mar 12 2018) - Denver Post : Inching toward 2020 presidential race
COLORADO -- Colorado Gov. John Hickenlooper is taking steps toward a presidential run in 2020, holding meetings with veteran political players, ahead of a visit to Iowa next month for an official trip that is sure to draw attention. The Democrat's actions in recent months signal to his closest associates and ...

---

(Mar 11 2018) - Christian Post : Mid-Term Votes Needed
NASHVILLE, TENN -- If conservative evangelicals fail to participate in the midterm elections this November, the "restoration of religious freedom and the freedom of speech" established under President Donald Trump will end, Family Research Council President Tony Perkins has warned.

---

(Mar 09 2018) - Huffington Post : Stand Down by Obama's Adm'
WASH D.C. -- CIA Director John Brennan was angry. On Aug. 4, 2016, he was on the phone with Alexander Bortnikov, head of Russia's Federal Security Service, the intelligence agency that succeeded the KGB. The phone call was one of their regularly scheduled ones, the main subject once again the ...

---

(Mar 08 2018) - Conservative Daily Post : AG Hires Outside help
WASH D.C. -- It was only yesterday that the news exploded saying that Representative Trey Gowdy (R-SC) & House Judiciary Committee Chairman Bob Goodlatte (R-VA) "demanded" a second Special Counsel due to new info obtained regarding the DoJ. The request was made in the form of a letter and ...
Estab. Jan 2008
---
Welcome to the newest on-line news service in the Porterville area. Our goal is to report the right news at the right time. In doing this, we believe that the community will get a greater sence of being connected.
---
The Right News @ The Right Time
---
Our second goal is to report above and beyond the main stream media.
---
Politically Inform and Educate
---
Our third goal is to politically inform and educate the voters and public at large.
---
A Conservative News Service
---
The Porterville Post is a Conservative on-line news service and when the Post makes a mistake in our reporting, we'll address it "Right Here" and if needed, with an appology. Please feel free to contact us with your comments or suggestions.
---
Writers | Columnists | Reporters
---
The Post - in the coming years - will be looking for new writers, columnists and reporters. We understand the need for new writers to have the chance of starting a new career and we'd like to offer a free internship at the Post.
---
---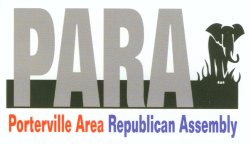 ---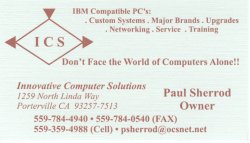 ---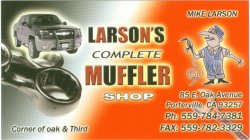 ---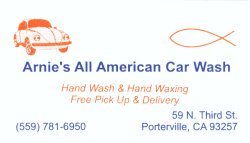 ---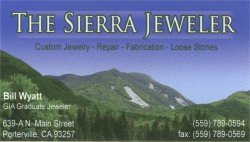 ---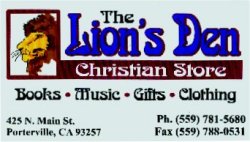 ---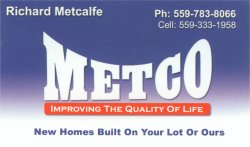 ---