The Porterville Post | On-Line News and Information | POST Papers
---
(Jul 12 2020) - Sunday Post : Scotland's poorest postcodes ...
SCOTLAND : Family doctors in Scotland's poorest postcodes are still waiting for crucial support staff promised by the Scottish Government four years ago. Half of practices in deprived communities do not have a link worker to help patients deal with problems that often prevent them accessing health care.

---

(Jul 11 2020) - Pittsburgh Post : COVID-19 waivers popping up
PITTSBURGH : Gyms, hair salons, summer camps, pools & vacation rentals all want their customers back. What they don't want is to get sued. Enter the waiver. The documents are popping up at a variety of establishments, asking patrons to waive their right to sue if they believe they contracted COVID-19 there.

---

(Jul 10 2020) - Frontier Post : NATO aircraft running drugs ???
MOSCOW : Russia insists that reports about possible use of NATO aircraft to traffic drugs in Afghanistan be probed into, Russian Foreign Minister Sergey Lavrov said Friday. "We keep on receiving reports, including via mass media, that contraband of opiates has been organized from Afghan' to other countries ...

---

(Jul 09 2020) - Huff Post : Christian Summer Camp Shuts Down
MISSOURI : A Christian organization shut down its summer camp for teenagers in Lampe, Missouri, after 82 kids & staffers tested positive for coronavirus. Kanakuk Ministries closed its K-2 camp for 13 to 18-year-olds last week after the outbreak was discovered, Stone County Health Dept announced on Facebook Monday.

---

(Jul 08 2020) - Denver Post : Congress can't get Trump records ...
WASH D.C. : The Supreme Court on Thursday kept a hold on President Trump's financial records that Congress has been seeking for more than a year. The ruling returns the case to lower courts, with no clear prospect for when the case might ultimately be resolved. The 7-2 outcome is at least a short-term victory for Trump

---

(Jul 07 2020) - Post Star : Legislature disrupted for 2nd time
SACRAMENTO : After 158 years without missing a day of deliberations, the California Legislature is headed toward its 2nd interruption in 4 months because of the CV-19 - this time after 5 people who work in the state Assembly contracted the disease. The outbreak appears connected a floor session of the Assembly

---

(Jul 06 2020) - Activist Post : Advanced Technology ...
U.S.A. : Today's world looks quite chaotic, threatened & stressed. But could the players & motives commonly cited by investigative journalists be symptomatic first, causal second? Issues come 'fast & furious,' such as ever-increasing threats to health, freedom, self-determination, & most critically to the ecosystem

---

(Jul 05 2020) - Post & Email : Lawsuits Filed Against ... SOS
CONNECTICUT : On July 1, a Connecticut-based non-profit filed a lawsuit naming Sec' of the State as defendant as a result of her announced intent in early May to send absentee-voter applications to every registered voter for the state's primary elections on Aug 11 without action from the Connecticut Gen' Assembly ...

---

(Jul 04 2020) - Bangkok Post : Thailand on quarantine list
LONDON : Travellers from Thailand arriving in England will still be required to self-isolate for 14 days, according to revised guidelines. The updated guidelines published on the UK Government website late Friday list 59 countries and territories for which no quarantine will apply, starting from July 10.

---

(Jul 03 2020) - Conservative Post : Whoopi : Hillary should be VP
HOLLYWOOD : The View host Whoopi Goldberg said Hillary Clinton would be her favorite pick to be Joe Biden's vice president. "The person who really is qualified to do it, and he cannot pick her: Hillary Clinton," Goldberg said on Friday's show. "In terms of qualifications, she is, she would be brilliant."

---

(Jul 02 2020) - PanAm Post : Best Antidote to Racism
AMERICA : Spanish - Blame the welfare state, not racism, for the problems of poor Black people, says Thomas Sowell, a libertarian economist (...). Racism is not dead, but it is on life support - kept alive by politicians, race hustlers & people who get a sense of superiority by denouncing others as "racists".

---

(Jul 01 2020) - Irish Post : 6,666 abortions carried out in Ireland
IRELAND : Since legislation was passed to repeal the 8th Amendment, some 6,666 abortions have officially taken place in Ireland. According to Dept of Health statistics, the vast majority of these terminations (6,542) happened within the first 12 weeks of pregnancy. It was also noted that in 100 of these cases ...

---

(Jun 30 2020) - Daily Post : COVID-19 lockdown ...
NIGERIA : Many tenants in Lagos State have expressed the agonies they suffer from their landlords/landladies for their inability to settle their rents as and when due. DAILY POST gathered that failure to pay rents by the tenants has been causing faceoff between house owners who depend on the rents for their survival and ...

---

(Jun 29 2020) - First Post : India bans 59 chinese apps
INDIA : The Ministry of Information Technology on 29 June banned 59 mobile apps, saying they are engaged in activities which are "prejudicial to the sovereignty & integrity of India, defence of India, security of state & public order. The list of apps included TikTok, Weibo & others. India is TikTok's largest market ...

---

(Jun 28 2020) - Kathmandu Post : Locusts marching towards west
NEPAL : With the wind blowing from east to west, the swarms of locusts which entered Nepal Saturday morning, are likely to travel further towards parts of the country. The Meteorological Forecasting Division under the Dept of Hydrology & Meteorology Sunday morning released a special weather bulletin to give updates ...

---

(Jun 27 2020) - Saturday Evening Post : News of the Week
U.S.A. : Can you believe it's almost July? Time flies when you're having ... fun? Some social distancing notes from this past week: It's official: Baseball is back. Teams will report to "spring" training next week and will play a 60-game season. The October New York City Marathon has been canceled.

---

(Jun 26 2020) - Courier Post : Woman accused of health ins' fraud
CAMDEN : A Swedesboro woman is accused of taking part in a scheme that defrauded health insurers of more than $6 million. Ashley Lyons-Valenti, an advanced practice nurse, allegedly wrote medically unnecessary prescriptions in exchange for $90,000 in kickbacks, said the U.S. Attorney's Office for New Jersey.

---

(Jun 25 2020) - Wash Post : Democrats' shameful vote against ...
WASH D.C. : We saw how seriously congressional Dem's were taking police reform when Sen. Durbin (D-Ill.), the 2nd-ranking leader, dismissed legislation introduced by Sen. Tim Scott (R-S.C.) as a "token, half-hearted approach." For Durbin to question the seriousness and sincerity of Scott - a black man ...

---

(Jun 24 2020) - Christian Post : Iran's underground church ...
IRAN : Christians in Muslim-majority Iran are risking arrest to provide food and humanitarian aid to their neighbors struggling without jobs during the coronavirus pandemic, according to the head of one of the world's most prominent Christian persecution watchdogs. David Curry, CEO of Open Doors USA ...

---

(Jun 23 2020) - Hippocratic Post : Young adults overwhelmed ...
U.S.A. : Despite the loosening of lockdown & the cautious reopening of businesses, forecasts of a shrinking economy will significantly impact job prospects – especially those of young adults already suffering the double whammy of student debt & high rents. Rising unemployment has been accompanied by a collapse ...

---

(Jun 22 2020) - Dominion Post : Contact tracing ... per your phone
WEST VIRGINIA : Your phone rings & the person on the other end says you have crossed paths with someone who has COVID-19. Or perhaps you already have tested (+) for the illness & they are following up, because ideally a Dr. has informed you of your status. Provided you don't hang up, the contact tracer, will ...

---

(Jun 21 2020) - Jerusalem Post : Peace plan is a game changer
ISRAEL : Trump's peace plan is the first time since the 1993 Oslo Accords that the paradigm of the peace process has been changed & that shift is in Israel's favor, Major General (Res.) Yitzhak "Jerry" Gershon told The Jerusalem Post. "This is the first time since we signed the Oslo Agreement that [the US has] ... "

---

(Jun 20 2020) - Post Journal : PDs Question Cuomo Mandate
NEW YORK : A recent executive order signed by Gov. Cuomo that mandates changes to police training is drawing questions & concerns from local dept' heads. The order would force local departments to implement new standards & programs, and threatens to withhold funding if law agencies do not comply by April 1, 2021.

---

(Jun 19 2020) - Patriot Post : The BLM Straw Man
AMERICA : The reality of being a human is that we are each individuals with our own unique lived experiences or histories. No matter what those experiences are - no matter our sex, the color of our skin, or our cultural background - we all share the universal experience of being human. This reality was recognized ...

---

(Jun 18 2020) - SCM Post : No immunity against Covid-19 ???
WORLD : Humans may never develop immunity against CV-19, according to new research on antibodies by Chinese & American scientists. Their conclusion was based on a study looking at whether hospital workers in Wuhan who were directly exposed to patients at the early stage of the outbreak had developed antibodies.

---

(Jun 17 2020) - Jesuit Post : Make Room For Hope
U.S.A. : Neuropsychiatrist, Dr. Dale Archer, published a piece in the Journal of the American Psychological Association stating, "Hope is not a wish for things to get better, rather it is a belief that things will always get better." As we face death & life, these moments trigger unfinished business in our lives ...

---

(Jun 16 2020) - Threat Post : Theft of CIA's 'Vault 7' Secrets ...
VIRGINIA : An internal investigation into the 2016 CIA breach condemned the agency's security measures, saying it "focused more on building up cyber tools than keeping them secure." A released report on the 2016 CIA data breach, which led to the Vault 7 doc dump on WikiLeaks, blames "woefully lax" security ...

---

(Jun 15 2020) - Gwinnett Post : Sheriff : Shooting Justified
GEORGIA : One day before charges could be filed against the ex-officer who killed Rayshard Brooks, a black Georgia sheriff said the shooting was justified. Brooks, 27, was killed by an Atlanta police officer Friday night outside a Wendy's after failing a sobriety test, taking an officer's Taser & running away.

---

(Jun 14 2020) - Seattle Post : 7 Minneapolis officers quit
MINNEAPOLIS : At least seven Minneapolis police officers have quit and another seven are in the process of resigning, citing a lack of support from department and city leaders as protests over George Floyd's death escalated. Current and former officers told The Minneapolis Star Tribune that officers are upset ...

---

(Jun 13 2020) - India Post : Trump considers suspending H-1B visas
NEW YORK : A proposal to suspend H-1B and other temporary employment visas is under consideration by officials, but US President Donald Trump has not signed off on them, according to a newspaper report. The Wall Street Journal (WSJ), quoting unidentified administration officials, reported on Friday that ...

---

(Jun 12 2020) - Cedar Springs Post : West Nile virus detected ...
LANSING, Mich. : The first West Nile virus activity for Michigan in 2020 has been reported in a captive hawk from Lapeer County. Residents are reminded that the best way to protect themselves against West Nile virus and other mosquito-borne illnesses, including Eastern Equine Encephalitis, is to prevent mosquito bites.

---

(Jun 11 2020) - China Post : Zoom caught in China censorship ...
HONG KONG : Video app company Zoom said Thurs it regretted that some meetings involving U.S.-based Chinese dissidents were disrupted, as meanwhile a prominent Hong Kong activist said his account was blocked despite the city's guarantees of free speech. Zoom is in San Jose, but conducts much of its R&D in China.

---

(Jun 10 2020) - NY Post : They bumped heads at the nightclub
MINNEAPOLIS : George Floyd and Derek Chauvin reportedly "bumped heads" while working security together at a nightclub years before their fatal encounter. A one-time co-worker at El Nuevo Rodeo on Lake Street in south Minneapolis revealed the duo's purported shaky history in an interview with CBS Evening News.

---

(Jun 09 2020) - Prairie Post : BLM March in Brooks
CANADA : Hundreds of people came together in Brooks to show their support for the fight against racism, injustice, police brutality & inequality across North America. The march started at IGA/Freson Bros & went down 2 St. W before reaching City Hall. It moved to Vet's Park for speeches, open mic, & 8 min of silence.

---

(Jun 08 2020) - Baghdad Post : Iranian-U.S. prisoners swapped
IRAN : An Iranian-American doctor has returned to Iran, Iranian state media reported Monday, after a swap deal between Tehran & Wash D.C. that resulted in the release of a U.S. Navy veteran detained in Iran. In a slight thaw in U.S.-Iranian enmity, the U.S. allowed Majid Taheri to travel to Iran as part of the swap deal.
Estab. Jan 2008
---
Welcome to the newest on-line news service in the Porterville area. Our goal is to report the right news at the right time. In doing this, we believe that the community will get a greater sence of being connected.
---
The Right News @ The Right Time
---
Our second goal is to report above and beyond the main stream media.
---
Politically Inform and Educate
---
Our third goal is to politically inform and educate the voters and public at large.
---
A Conservative News Service
---
The Porterville Post is a Conservative on-line news service and when the Post makes a mistake in our reporting, we'll address it "Right Here" and if needed, with an appology. Please feel free to contact us with your comments or suggestions.
---
Writers | Columnists | Reporters
---
The Post - in the coming years - will be looking for new writers, columnists and reporters. We understand the need for new writers to have the chance of starting a new career and we'd like to offer a free internship at the Post.
---
---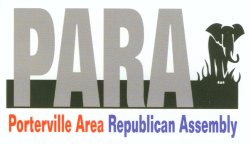 ---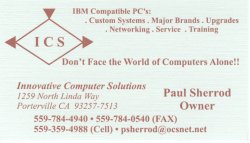 ---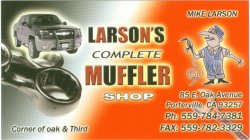 ---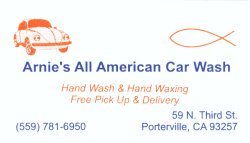 ---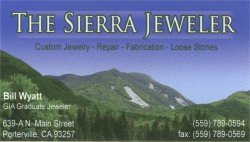 ---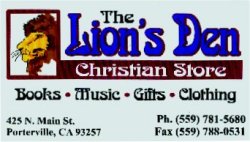 ---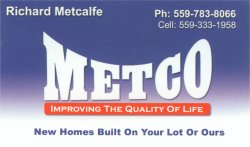 ---