The Porterville Post | On-Line News and Information | POST Papers
---
(Sep 20 2018) - Wash Post : Kavanaugh accuser won't testify ...
WASH D.C. -- n attorney for Christine Blasey Ford, the woman who is accusing Supreme Court nominee Brett M. Kavanaugh of sexually assaulting her when they were teenagers, said Thursday that her appearing at a hearing on Monday to detail her claims is "not possible" but she could testify later in the week.

---

(Sep 19 2018) - Monroe County Post : Banning plastic straws ???
NEW YORK -- Canandaigua took up a discussion on Tuesday night that has been stirring up the country- should plastic straws be banned? City leaders discussed a possible ordinance that would be similar to those passed in Seattle and San Francisco. Supports say it's an effort to cut down on plastic pollution.

---

(Sep 18 2018) - Connecticut Post : Trump rolls back pollution rules
MONTANA -- The Trump admin' rolled back an Obama-era rule that forced energy companies to capture methane — a key contributor to climate change that's released in huge amounts during drilling on U.S. & tribal lands. A replacement rule from the Interior Dept' rescinds mandates for companies to reduce gas pollution ...

---

(Sep 17 2018) - The Post : GANGLAND FEARS: Gene Gotti's release
NEW YORK -- N.Y. City's trigger-happy underworld is on edge with the return of Mob brother No. 1, Gene Gotti. The 71 gangster was recently released after serving 29 yrs in prison on a heroin trafficking beef. The younger brother of famed 'Teflon Don' John Gotti, Gene Gotti returns to the streets an older, balding man.

---

(Sep 16 2018) - SCM Post : Blocking research is certain to backfire
CHINA -- Statistical evidence has emerged of overseas researchers being pressured by Chinese authorities not to investigate sensitive issues. But academic exchange and input from the outside is important to China's development as a global power. Evidence of political boundaries on academic freedom in the mainland abounds.

---

(Sep 15 2018) - Huffington Post : Florence Drenches Carolinas ...
MYRTLE BEACH -- Florence already has proven deadly with its nearly nonstop rain, surging seawater and howling winds, and the threats are days from ending as remnants from what was a major hurricane swirl over the Carolinas. Some towns have received more than 2 feet (60 centimeters) of rain from Florence, and ...

---

(Sep 14 2018) - Frontier Post : Three Levies personnel martyred ...
QUETTA -- At least 3 Levies personnel were martyred & 2 others injured in a blast near Pasheen. According to media reports, the explosion took place near the vehicle of Assistant Commissioner; however the AC was not travelling in his car at the time of the attack. Police reports a motorbike was used in the explosion.

---

(Sep 13 2018) - Patriot Post : When Gov't Becomes Everything ...
CALIFORNIA -- This week, Republican congressional candidate Rudy Peters of California was nearly stabbed by a 35-year-old Castro Valley resident, Farzad Fazeli. According to media reports, Fazeli started shouting about President Trump and then pulled out a switchblade. Thankfully, the switchblade malfunctioned ...

---

(Sep 12 2018) - Hippocratic Post : Stressing to be happy
U.S.A. -- "In recent years, there has been a shift within society whereby happiness is valued above everything else. Across Instagram & social media, we're seeing constant posts about being happy, or, to use that old cliché, "turning that frown upside down". However, the truth is that only by experiencing things ...

---

(Sep 11 2018) - Central Florida Post : Remembering 9/11
NEW YOUK -- Today, on this day of remembrance, I encourage you all to take a moment and remember all those that we lost, all that we've lost ever, and be grateful for all that we still have. Seventeen years ago, I had just returned from the college dining room to my dorm room to get ready for class.

---

(Sep 10 2018) - Conservative Daily Post : Sessions Sets Record ...
WASH D.C. -- Since President Trump has taken over responsibility, deportations have been on the rise, which requires, of course, more judges to oversee the deportations. There is also a demand for more judges to deal with cases in the immigration backlog, of which there are said to be hundreds of thousand.

---

(Sep 09 2018) - Activist Post : Secret 'US' Spy base in Australia ?
AUSTRALIA -- What in the world is the U.S. doing in the central part of the Australian continent with a deep underground spy base known as Pine Gap, a top secret base financed entirely by the U.S. gov't ? It's officially known as the Joint Defense Space Research Facility, and is not far from Alice Springs ...

---

(Sep 07 2018) - Gwinnett Post : Student charged with bringing gun
GEORGIA -- A Parkview High School student is facing criminal charges and school disciplinary action for bringing a gun to school, officials said. On Thursday, Parkview Principal David Smith sent a letter to parents informing them of the incident, which he said occurred Wednesday. According to the letter ...

---

(Sep 06 2018) - Baghdad Post : Curfew imposed in Basra ...
IRAQ -- Basra Operations Command imposed a curfew in the province starting from this afternoon until further notice. Protesters set fire to part of the city governorate's building. Iraqi security forces have killed 9 protesters & injured 93, including 18 security forces. Strict measures have been instituted ...

---

(Sep 05 2018) - India Post : India, US to discuss issues
NEW DELHI -- A raft of key issues such as the US' sanctions on import of Iranian crude oil, boosting cooperation in the Indo-Pacific region and finalizing a pact on encrypted defense technologies will be the focus of the inaugural two-plus-two talks between India and the US here, official sources has said.

---

(Sep 04 2018) - Conservative Post : 1 Million Muslims Rounded Up
CHINA -- Did they go too far? China views Islam as a threat to its traditional values. It's a sentiment shared by many in the Democratic & Christian West. But China's approach to countering the threat has been very different from what we've seen from most of Europe & America up until the Trump presidency.

---

(Sep 03 2018) - Weekend Post : Gov't finally dumps EVMs
BOTSWANA -- President Mokgweetsi Masisi admin' has announced this week the reversal of the decision to introduce the controversial Electronic Voting Machine (EVMs) following court battles & resistance from the populace. Ever since Masisi ascended to the presidency, gov't had hinted at doing away with EVM ...

---

(Sep 02 2018) - Sunday Post : Families of Scots who die abroad
SCOTLAND -- Scotland should go it alone & look after the "abandoned" families of people who die abroad, an SNP MP has said. Hannah Bardell, chairwoman of a cross-party Westminster group on deaths abroad, said too many people had been failed by the Foreign Office who she claimed often treat the issue as a ...

---

(Sep 01 2018) - Jerusalem Post : Evangelicals see Trump as ...
AMERICA -- As he travels to preach at small country churches across Alabama, former State Baptist Convention President John Killian hears a lot of talk about President Trump. "I see overwhelming support," Killian said. Many Southern Baptists - who number more than a million in Alabama - tend to like Trump and ...

---

(Aug 31 2018) - Saturday Evening Post : American Work Ethic ...
AMERICA -- "It's easy to see that America has lost sight of the virtues that comprise work ethic - the very things that helped build our country," wrote David Schwabel in Forbes magazine. It's a common complaint among Americans. You hear it when we get lousy service in a restaurant, find our new appliance doesn't work ...

---

(Aug 30 2018) - First Post : RBI data on demonetisation ...
INDIA -- A bit of info that was eagerly awaited was on the quantum of money that was demonetised which came back into the system though the banking channels. The non-availability of such data had led to considerable speculation on the end result. Given the physical numbers involved, it was natural that ...

---

(Aug 29 2018) - Bristol Post : Paedophile hunter case thrown out
ENGLAND -- A judge has thrown out a court case in which a man was the victim of a paedophile hunter sting. The hunter, known as Danny Catcher, created a fake 14-year-old girl when chatting with Isaac Slusalarczik online & provided a photo of his then girlfriend to reinforce the deception. After the "child" Louise said ...

---

(Aug 28 2018) - Bangkok Post : Genocide against Rohingya Muslims
GENEVA -- Investigators working for the UN's top human rights body said that Myanmar military leaders should be prosecuted for genocide against Rohingya Muslims, taking the unusual step of identifying 6 by name among those behind deadly, systematic crimes against the ethnic minority. They also faulted ...

---

(Aug 27 2018) - Daily Post : BMO fires back at Trump ...
NIGERIA -- The Buhari Media Organisation, BMO, on Monday, rubbished the report by President Donald Trump that President Muhammadu Buhari is a "lifeless President." BMO insisted that Buhari was fit and capable of running for the 2019 elections. In a statement signed by the group's Chairman & Sec', Niyi Akinsiju and ...

---

(Aug 26 2018) - Forney Post : One Year After Hurricane Harvey
TEXAS -- In 2017, Aug. 25 was a tragic day. Hurricane Harvey made landfall in Texas, bringing destructive winds & floodwaters that claimed 88 lives & caused immeasurable damage. In 2018, as that date approaches again, Texans mourn the loss of those who were taken too soon & reflect on the struggles of thousands ...

---

(Aug 25 2018) - Seattle Post : Trump slams FBI's investigation
WHITE HOUSE -- President Trump is again criticizing the FBI's investigation into Hillary's emails & he's suggesting that "at some point" he "may have to get involved!" Trump is asserting, without providing evidence, that the FBI failed to thoroughly review Clinton's emails as part of its investigation into ...

---

(Aug 24 2018) - NY Post : Trump-backed candidate wins Ohio
COLUMBUS -- A two-term state senator who was backed by President Trump but who also promoted his ties to Trump critic John Kasich won a previously deadlocked congressional special election in Ohio, retaining a coveted open US House seat long held by Republicans. State Sen. Troy Balderson was certified Friday ...

---

(Aug 23 2018) - PanAm Post : Venezuela: An Example of Failure
VENEZUELA -- In the Washington Post, Venezuelan Francisco Toro, columnist for that newspaper & founder of the Caracas Chronicles group blog, presents an attempt to dissociate the Venezuelan tragedy from its ideological cause. In the article, entitled "No, Venezuela does not prove anything about socialism," Toro rails ...

---

(Aug 22 2018) - Jesuit Post : On the Abuse Crisis
VATICAN -- It has been a bad summer for the Roman Catholic Church in the U.S. Beginning with substantiated allegations of sexual abuse by then-Cardinal Theodore McCarrick, subsequent weeks have led to McCarrick's resignation from the College of Cardinals, stories of abuse at seminaries, and, most recently ...

---

(Aug 21 2018) - BRICS Post : Lula should be allowed to run ...
BRAZIL -- With the national elections in Brazil less than 2 months away, some are calling for former President Lula da Silva to be allowed to run despite being incarcerated on a corruption conviction. And he continues to dominate pre-election polls despite being behind bars where he is serving a 12-year sentence.

---

(Aug 20 2018) - Post Courier : Clans urged to surrender weapons
PAPUA NEW GUINEA -- A 48-hour ultimatum given to conflicting clans in Salamaua LLG, Huon Gulf district in Morobe Province has resulted in some illegal weapons surrendered at Salamaua station last week. Senior Constable Dickson Siniwin from police criminal investigation division told youths from the conflict villages ...

---

(Aug 19 2018) - Kathmandu Post : NOC hikes prices of products
NEPAL -- Nepal Oil Corporation (NOC) has jacked up the prices of petroleum products on Sunday. The state-owned monopoly has decided to increase Rs 1 per litre in petrol. It has increased diesel & kerosene prices by Rs 2 a litre, respectively. Similarly, the NOC has increased aviation fuel by Rs 4.50 per litre.
Estab. Jan 2008
---
Welcome to the newest on-line news service in the Porterville area. Our goal is to report the right news at the right time. In doing this, we believe that the community will get a greater sence of being connected.
---
The Right News @ The Right Time
---
Our second goal is to report above and beyond the main stream media.
---
Politically Inform and Educate
---
Our third goal is to politically inform and educate the voters and public at large.
---
A Conservative News Service
---
The Porterville Post is a Conservative on-line news service and when the Post makes a mistake in our reporting, we'll address it "Right Here" and if needed, with an appology. Please feel free to contact us with your comments or suggestions.
---
Writers | Columnists | Reporters
---
The Post - in the coming years - will be looking for new writers, columnists and reporters. We understand the need for new writers to have the chance of starting a new career and we'd like to offer a free internship at the Post.
---
---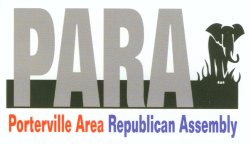 ---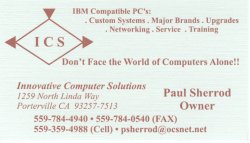 ---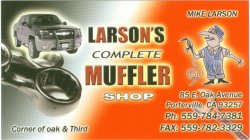 ---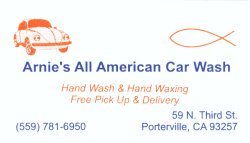 ---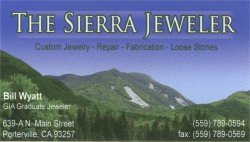 ---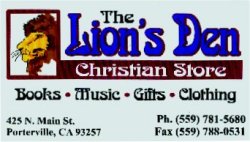 ---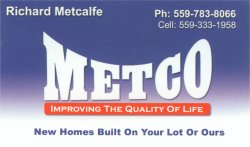 ---