The Porterville Post | On-Line News and Information | POST Papers
---
(Jun 23 2017) - Jesuit Post : A Tale of Two Churches
U.S.A. -- Imagine you and I are debating the best way to slice bread. It shouldn't be that controversial. Slicing bread is not difficult, and, even if we do disagree on how to do it, our difference should not engender moral judgments against each other. But somehow we find ourselves in a heated dispute over bread-slicing ...

---

(Jun 22 2017) - Salisbury Post : Senate GOP health bill ...
WASH D.C. -- Senate Republicans would cut Medicaid, end penalties for people not buying insurance & erase a raft of tax increases as part of their long-awaited plan to scuttle Obama's health care law, congressional aides lobbyists say. After weeks of closed-door meetings that angered Democrats & some Republicans,

---

(Jun 21 2017) - First Post : Narendra Modi in US ...
INDIA -- Three days to go before Air Force One flies into Washington DC and politicians, think-tanks, policy makers and media are already engaged in feverish speculation on the outcome of Prime Minister Narendra Modi's first meeting with US president Donald Trump. Will it be bromance at first sight?

---

(Jun 20 2017) - Conservative Daily Post : Obama shouldn't got in
U.S.A. -- The 2008 presidential election was one of the most controversial in the history, given the fact that candidate Obama had a lot of skeletons in his closet. In addition to the scandal of whether he was born in the U.S. or not, his political background revealed left-wing radicalism & his affairs with Communism.

---

(Jun 19 2017) - Palm Beach Post : Shooting captured on video
MYRTLE BEACH -- When volunteer firefighter Bubba Hinson decided to visit the popular tourist destination Myrtle Beach, S.C., the last thing he expected was to be live cameraman of a mass shooting. In the video, which we are not showing in full due to its graphic nature, Hinson yelled, "Multiple people down!" ...

---

(Jun 18 2017) - Sunday Post : Class divide in fire safety laws
LONDON -- A probe has discovered a two-tier legal system in the way authorities treat fire safety across the country. While landlords face a barrage of safety checks, local councils & housing associations are not required to provide working smoke alarms. The two-tier system has emerged in the wake of this week's tragedy

---

(Jun 17 2017) - Wash Post : 7 U.S. Navy sailors missing ...
TOKYO -- Seven U.S. Navy sailors are missing off the coast of Japan after an Aegis guided-missile destroyer, the USS Fitzgerald, collided with a container ship early Saturday, causing significant damage & flooding. Three of the Fitzgerald's crew members, including its commanding officer, Cmdr. Bryce Benson, were evacuated

---

(Jun 16 2017) - Threat Post : Erosion of ISP Privacy Rules ...
WASH D.C. -- Since Congress voted to prevent the implementation of new ISP privacy protections there has been a committed and sometimes loud call for new rules. The fear is, without adequate safeguards in place, ISPs will be free to build detailed customer profiles that include names, addresses and online activities.

---

(Jun 15 2017) - Patriot Post : Ball Field Becomes Battlefield
VIRGINIA -- It was supposed to be a game honoring the victims of the Manchester terror attack - until Wednesday morning, when it turned into a bloody tragedy of its own. A baseball diamond - one of the few places in Washington where there are no politics, no agendas, and no animosity - turned into a killing field ...

---

(Jun 14 2017) - Bristol Post : Stay put if there's a fire
BRISTOL -- Bristol City Council advises its residents to stay put in the event of a fire, according to the tenants' handbook. This is the same advice given to residents of Grenfell Tower which was destroyed by a fire, leaving six people dead. The handbook tells residents to stay put if there's a fire in another flat.

---

(Jun 13 2017) - Gwinnett Post : DNC Awards Many Bonuses
PHILADELPHIA -- Pennsylvania pols can't go a year without a major scandal. The committee that organized the DNC in Philadelphia last summer awarded more than $900,000 in bonuses to staffers & $1.2 million in grants. The handouts have sparked a firestorm because the committee was funded, in part, by taxpayers.

---

(Jun 12 2017) - Conservative Post : Trump : 'Crazy Like A Fox'
WASH D.C. -- Donald J. Trump is "crazy like a fox" according to world renowned psychiatrist Keith Ablow. Trump has a genius mind, and everything he does is by design. You can't run a multinational corporation, enjoy the respect, & love of your children, & your wife, & recruit to your administration ...

---

(Jun 11 2017) - NY Post : Calls to investigate Loretta Lynch
WASH D.C. -- Top Dem' on the Senate Judiciary Committee called for a congressional investigation into former AG Loretta Lynch's handling of the Hillary's email probe. Sen. Feinstein said she's concerned by former FBI Director's testimony Thursday that Lynch asked him to downplay his "investigation" ...

---

(Jun 10 2017) - Saturday Evening Post : News of the Week
AMERICA -- This week Apple unveiled their new tech toys in front of a crowd of screaming fans. I don't know if they announced anything that'll blow away the casual user of Apple products, but they made some updates & announcements that'll please regular users, including new additions to their line of desktops & laptops

---

(Jun 09 2017) - Cameroon Post : Law Suit Against Church Leaders
CAMEROON -- Christians of the major churches have all united behind their Church leaders, following a law suit against the leaders by a 'consortium of parents' that has been discerned as a group sponsored by gov't. When the matter came up on May 5, at the SW Magistrates Court, Christians thronged the premises with bibles

---

(Jun 08 2017) - Copenhagen Post : Danish PM to meet counterpart
DENMARK -- Poland is one of Denmark's most important neighbours in the Baltic & an important ally in the EU & NATO. A number of common areas of interest will be on the agenda when Poland's PM, visits the Danish PM on Friday. The meeting's part of an ongoing dialogue between the countries on issues such as security

---

(Jun 07 2017) - SCM Post : Plane debris found in Andaman Sea
ANDAMAN SEA -- Debris from a missing Myanmar military plane carrying more than 100 people was found in the Andaman Sea after it went missing Wednesday on a flight from southern Myanmar to Yangon. "Now they have found pieces of the damaged plane in the sea 136 miles away from Dawei city," said tourism official ...

---

(Jun 06 2017) - Denver Post : Paris police shot attacker ...
FRANCE -- Paris police say an unidentified assailant has attacked a police officer near the Notre Dame Cathedral, and the officer then shot and wounded the attacker. A police spokesperson told (AP) that the officer used his weapon to shoot the attacker in Tuesday's incident, and attacker was being hospitalized.

---

(Jun 05 2017) - Post & Email : Did the media 'stage' this
LONDON -- On Sunday evening, Daily Mail columnist Katie Hopkins tweeted & retweeted video which appears to show a media company or companies directing men & women purportedly dressed in traditional Muslim clothing where to stand & how high to hold their signs of "protest" in apparent reaction to terror attacks.

---

(Jun 04 2017) - Greanville Post : Clinton Dem's Are Literally Neocons
U.S.A. -- "Literally" is one of the most misused words in the English language today, but that is not the case with the headline of this article. I am not claiming here that pro-establishment Democrats are figuratively neocons, and I do not mean to say that they are hecka-hella-kinda-sorta like neocons.

---

(Jun 03 2017) - China Post : Military prepares for rescue missions
TAIPEI -- The Ministry of National Defense has set up a disaster response center & military personnel, vehicles & apparatus are on stand-by to help local govt's with rescue work in the wake of torrential rain which has pounded Taiwan since Friday morning. Lee Hsi-ming, ordered the disaster response preparations ...

---

(Jun 02 2017) - Jerusalem Post : Denial of Israel is antisemitism'
NEW YORK -- "Denial of Israel's right to exist is antisemitism," declared United Nations Secretary-General Antonio Guterres at a meeting with senior officials of the Simon Weisenthal Center (SWC). The meeting took place at the UN headquarters in New York, according to an SWC press release sent out on Tuesday.

---

(Jun 01 2017) - Pakistan Christian Post : Trump calls President Ghani
WASH D.C. -- President Trump called President Ghani of Afghanistan to convey his deepest condolences to the families & friends of those killed & injured in the murderous attack that took place this morning near the diplomatic zone in Kabul. He condemned the attack, which occurred during the month of Ramadan ...

---

(May 31 2017) - Pittsburgh Post : CNN Fires Kathy Griffin ...
NEW YORK -- For a little while, it looked as if Kathy Griffin was getting exactly what she wanted. On Tuesday afternoon, an image appeared online of the actress posing with a mask styled to look like the decapitated, bloody head of President Trump. It was inevitable that the violent image would get a reaction.

---

(May 30 2017) - Activist Post : Smartphone Apps Share Your Data
U.S.A. -- Our mobile phones can reveal a lot about ourselves: where we live & work; who our family, friends & acquaintances are; how (and even what) we communicate with them; & our personal habits. With all the info stored on them, it isn't surprising that mobile device users take steps to protect their privacy ...

---

(May 29 2017) - National Post : Western alliance is shattered
LONDON -- German Chancellor Angela Merkel on Sunday declared a new chapter in U.S.-European relations after contentious meetings with President Trump last week, saying that Europe "really must take our fate into our own hands." It was the toughest review yet of Trump's trip to Europe, which inflamed tensions ...

---

(May 28 2017) - US Financial Post : G-7 Summit Leaders ...
EUROPE -- Leaders of the Group of Seven wealthy nations meet African heads of state on Saturday, the final day of their annual summit which has been marked by discord over climate change, but unity on tackling terrorism. British PM Theresa May held up the declaration on fighting terror during a group photo ...

---

(May 27 2017) - BRICS Post : Chinese FM meets Russian leaders
MOSCOW -- Russian-Chinese relations "are not vulnerable to any changes in the international situation" according to the Chinese FM Wang who has met top Russian leaders in Moscow. "Our resoluteness & confidence in a continued deepening of comprehensive partnership & strategic cooperation remains unwavering,"

---

(May 26 2017) - Bangkok Post : Sex traffickers took hundreds
MINNEAPOLIS -- Hundreds of women were brought from Thailand to the US and forced to be "modern day sex slaves", according to an indictment unsealed Thursday that charges high-level members of what authorities called a sophisticated sex-trafficking ring that concealed millions of dollars in earnings.

---

(May 25 2017) - Jakarta Post : Jakarta shocked by deadly bombings
JAKARTA -- Only hours before Jakartans looked forward to enjoying the Ascension of Jesus Christ public holiday, a twin bomb attack struck the Kampung Melayu Transjakarta bus terminal Wednesday night. Two suspected suicide bombers died instantly, the police said. At least 5 policemen - also fell victim ...

---

(May 24 2017) - Yorkshire Post : Troops on the streets ???
BRITAIN -- Britain is on critical terror alert today with military troops set to bolster police forces amid fears Manchester attacker Salman Abedi did not act alone. Prime Minister Theresa May has raised the threat level to the highest possible rating, meaning another atrocity is expected imminently.

---

(May 23 2017) - Internet Post : Big pharma exposed as criminal
DENMARK -- Peter C. Gøtzsche, MD is a Danish medical researcher & leader of the Nordic Cochrane Center at Rigshospitalet in Copenhagen. He's written numerous reviews within the Cochrane collaboration. Dr.Gøtzsche has been critical of screening for breast cancer using mammography, arguing it can't be justified ...

---

(May 22 2017) - Seattle Post : Is WH Duping MSM with Leaks
WASH D.C. -- Conservative talk show host Bill Mitchell has hatched an ingenious plot to destroy the credibility of major newspapers. "You know what we should do? Start flooding the NYTimes and WAPO tip lines with all kinds of crazy "leaks." Then laugh when they print them!" he posted on Twitter. Simple, right?

---

(May 21 2017) - Christian Post : Which Christians Fight Online
U.S.A. -- Verbal fights on the Internet are common, be it comment sections or social media posts. Do Christians also fight online? Does one denomination argue more than the others? And why? To answer these questions, the Barna Group conducted a survey, and here's what it discovered. When U.S. adults were asked ...

---

(May 20 2017) - Punching Bag Post : China's Belt & Road Initiative
CHINA -- This last Sunday, President Xi Jinping hosted 28 heads of state at a two-day summit in Beijing focusing on China's Belt & Road Initiative. China's planning to bring back the "Silk Road" to better connect Europe & Asia with more direct trade routes. The project is expected to cost $1.4 trillion and ...

---

(May 19 2017) - Kathmandu Post : Longest Parliament session ...
NEW DELHI -- The House session that commenced on May 3 last year came to an end on Thursday midnight after 381 days, becoming the longest session ever in the country. The new session will start on Monday. Speaker Onasari Gharti informed the House about President Bhandari's order ... to prorogue the session.

---

(May 18 2017) - Jesuit Post : Better Culture of Sex On Campus
SAN DIEGO -- It's a classic "he said/she said" scenario: John Doe and Jane Roe were a brief college couple at the University of California, San Diego, and had engaged in sexual activity one Friday night after drinking at a party. But after breaking up, she says that it was rape, while he claims that it was consensual.

---

(May 17 2017) - Huff Post : Putin Denies Classified Info Shared
RUSSIA -- President Putin said Wednesday that President Trump had not passed on any secrets to Russian FM Sergei Lavrov during a meeting in Washington last week & he could prove it. Speaking at a news conference in Italy, Putin quipped that Lavrov was remiss for not passing on what he believed were non-existent secrets.
Estab. Jan 2008
---
Welcome to the newest on-line news service in the Porterville area. Our goal is to report the right news at the right time. In doing this, we believe that the community will get a greater sence of being connected.
---
The Right News @ The Right Time
---
Our second goal is to report above and beyond the main stream media.
---
Politically Inform and Educate
---
Our third goal is to politically inform and educate the voters and public at large.
---
A Conservative News Service
---
The Porterville Post is a Conservative on-line news service and when the Post makes a mistake in our reporting, we'll address it "Right Here" and if needed, with an appology. Please feel free to contact us with your comments or suggestions.
---
Writers | Columnists | Reporters
---
The Post - in the coming years - will be looking for new writers, columnists and reporters. We understand the need for new writers to have the chance of starting a new career and we'd like to offer a free internship at the Post.
---
---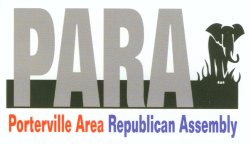 ---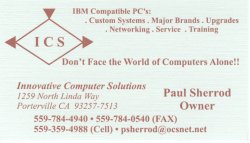 ---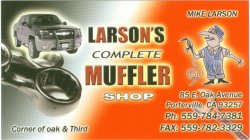 ---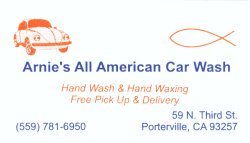 ---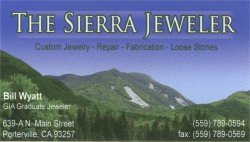 ---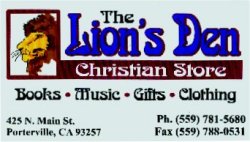 ---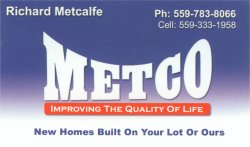 ---