The Porterville Post | On-Line News and Information | POST Papers
---
(Dec 17 2018) - Bangkok Post : 18 million meth pills seized
BANGKOK -- Authorities seized more than 18 million meth pills in the drug-riddled "Golden Triangle", a senior military official said Monday, following deadly anti-trafficking operations in the border region. The Golden Triangle -- the lawless wedge of land intersecting China, Myanmar, Thailand and Laos ...

---

(Dec 16 2018) - Palm Beach Post : Satellite set for lift off
FLORIDA -- After months of delays, the U.S. Air Force is about to launch the first of a new generation of GPS satellites, designed to be more accurate, secure & versatile. But some of their most highly touted features will not be fully available until 2022 or later because of problems in a companion program ...

---

(Dec 15 2018) - Post Athenian : ObamaCare Stuck Down ...
TEXAS -- The SCOTUS likely will be deciding the fate of Obamacare for a 2nd time after a federal judge on Friday struck it down as unconstitutional based on its mandate requiring individuals to purchase health insurance. In 2012, a divided court ruled that a tax placed on people who refused to buy health insurance ...

---

(Dec 14 2018) - Paradise Post : Sheriff releases emergency calls
MAGALIA, CA -- The Butte County Sheriff's Office on Thursday released a written log of emergency calls it received the day the Camp Fire erupted, showing dispatchers were flooded with calls as the fire marched through Concow, Magalia and Paradise. The log also included two eyebrow-raising reports suggesting ...

---

(Dec 13 2018) - NY Post : Feds launch inauguration spending probe
WASH D.C. -- The feds are investigating whether President Trump's 2017 inaugural committee misspent some of the record $107 million it raked in from donations, according to WSJ. The criminal probe by the Manhattan's DA is also scrutinizing whether some of the committee's fat cat donors gave money ...

---

(Dec 12 2018) - Activist Post : Google Employees Publicly Rebel
CALIFORNIA -- DRAGONFLY: Google Employees Publicly Rebel Against Building a Dystopian New Search Engine. Dragonfly is a search engine specially built for China. It would unleash more censorship on a mass scale by selectively blocking certain search terms, apparently at the behest of China's government.

---

(Dec 11 2018) - Seattle Post : Trump ... 'the people would revolt'
WHITE HOUSE -- President Trump commented on impeachment Tuesday, claiming he's unconcerned by the possibility and positing that "the people would revolt if that happened." The remark came during a White House interview with Reuters, his first since federal prosecutors in New York filed a sentencing memo for Michael Cohen,

---

(Dec 08 2018) - Kathmandu Post : Ambassador Sherpa summoned ...
NEPAL -- The government has summoned Nepal's Ambassador to Australia Lucky Sherpa to Kathmandu after she was charged with human trafficking by her former driver. The Ministry of Foreign Affairs on Friday instructed Ambassador Sherpa to report to the ministry within three days with an explanation.

---

(Dec 07 2018) - Post & Email : Trump Sounds Off on ...
WHITE HOUSE -- Early on Friday morning, President Donald Trump tweeted his frustration with the Mueller "Russia" investigation, just hours before former FBI Director James Comey is to testify to the House Judiciary Committee behind closed doors. The committee, particularly the Republican majority ...

---

(Dec 06 2018) - Washington Post : Dow extends deep losses
WALL STREET -- After a reprieve for a national day of mourning, U.S. stock markets on Thursday extended an across-the-board rout triggered by signs that the prospect of a U.S.-China trade deal was in jeopardy. Investor angst was fueled by the arrest of a Chinese executive that further threatened progress on trade,

---

(Dec 05 2018) - Christian Post : Cross miraculously left standing ...
CALIFORNIA -- A large wooden cross that was left untouched by California wildfires is serving as a reminder of God's faithfulness to a town almost entirely destroyed by the inferno. On Facebook, Our Savior Lutheran Church Pastor Merrick posted a photo of the cross 2 days after flames devastated the town of Paradise ...

---

(Dec 04 2018) - Threat Post : Quora Breach Exposes 100M Users
WORLD -- Crowdsourced query site Quora is asking the question of "what happened?" in the wake of a massive data breach that impacts up to 100 million of its users. The hack exposed user names, email addresses, hashed passwords, direct message content & imported data from networks that users linked to their accounts ...

---

(Dec 03 2018) - Pittsburgh Post : Priests names kept secret
HARRISBURG -- As the Catholic Church undergoes a national reckoning for its handling of the clergy sex abuse scandal, Pennsylvania Supreme Court on Monday ruled it wouldn't release the identities of 11 clerics implicated in a grand jury investigation of such abuse in nearly every diocese in the state.

---

(Dec 02 2018) - Frontier Post : Joint international air drill ...
KARACHI -- Pakistan and China's Joint International Air Drill 'Shaheen VII' has kicked-off, at an operational base of Pakistan Air Force (PAF) on Sunday. According to details shared by PAF spokesperson, a Chinese Air Force contingent has arrived in Pakistan which includes pilots and air defense controllers.

---

(Dec 01 2018) - Saturday Evening Post : The WW II Conference ...
TEHRAN -- 75 years ago, at the height of World War II, the leaders of the United States, the United Kingdom, and the Soviet Union came together for the first time. President Franklin Delano Roosevelt, Prime Minister Winston Churchill, and Premier Joseph Stalin each knew that agreements and concessions had to be made,

---

(Nov 30 2018) - Huffington Post : Trump Signs New NAFTA Deal
BUENOS AIRES -- President Trump joined the leaders of Canada & Mexico at a global meeting in Argentina on Friday to sign a revised North American trade pact that he called "groundbreaking" & a benefit for "working people." The U.S.-Mexico-Canada Agreement is meant to replace the 24-year-old NAFTA ... "

---

(Nov 29 2018) - SCM Post : Manufacturers are fleeing China ...
CHINA -- President Trump's tariffs on Chinese imports are having the desired effect of driving production out of China - but not to the U.S. Less than a month after the Trump admin' hit US$200 billion worth of Chinese imports with a 10% tariff, leading Hong Kong based furniture maker Man Wah Holdings ...

---

(Nov 28 2018) - Patriot Post : Independent Judiciary Reality Check
WASH D.C. -- "The opinion which gives to the judges the right to decide what laws are constitutional and what not, not only for themselves, in their own sphere of action, but for the Legislature and Executive also in their spheres, would make the Judiciary a despotic branch." — Thomas Jefferson (1804)

---

(Nov 27 2018) - Jersey Evening Post : Divided over child refugees
JERSEY -- Islanders are again divided over the issue of whether Jersey should accept child refugees. Last week the JEP revealed that the gov't was 'examining' the possibility of bringing unaccompanied child refugees into Jersey & it's believed that civil servants are liaising with UK officials over the matter.

---

(Nov 26 2018) - BRICS Post : Russia detains Ukrainian vessels
BLACK SEA -- The Russian Federal Security Service acknowledged in a press release that the Russian navy had fired on the Ukrainian vessels in the Kerch-Yenikale Canal because "they did not respond to legitimate demands by the ships & boats of Russia's FSB Border Guard Service escorting them to stop immediately ..."

---

(Nov 25 2018) - Wilson Post : Bombs away ...
TENNESSEE -- It's been more than 73 yrs since Lucius Agee flew on a bombing mission, but in his mind's eye the 94-year-old World War II veteran can picture it clear as day, even though he performed his duty in the dark of night. "My big job was to interpret what was on the screen," said Agee, a Navy aviation radioman ...

---

(Nov 24 2018) - Denver Post : Melting ice has military looking north
UNALASKA, Alaska -- Army helicopters began flying in and out of the scraggily wilderness near this fishing town in August, surprising even the mayor. The tan, twin-rotor Chinook aircraft thumped over treeless cliffs and the historic port of Dutch Harbor, parking at a mountainside airstrip too small to land jet airliners.

---

(Nov 23 2018) - Kyiv Post : London court dismisses PrivatBank case
LONDON -- A High Court judge in London has decided that English courts do not have sufficient grounds for jurisdiction to hear attempts by Ukraine's state-owned bank Privatbank's owners to recover billions of dollars they claim were embezzled by the bank's original owners, oligarchs Ihor Kolomoisky and Gennadiy Boholyubov.

---

(Nov 22 2018) - Post Register : Trump issues Thanksgiving threat ...
PALM BEACH -- President Trump made a Thanksgiving Day threat to close the U.S. border with Mexico for an undisclosed period of time if his admin' determines that its southern ally has lost "control" on its side. Trump also said he's given active-duty troops the "OK" to use lethal force against migrants ...

---

(Nov 21 2018) - Balkins Post : Kosovo quandary a win for Russia
KOSOVO -- For nearly two decades, President Vladimir Putin has been on a mission to make Russia great again - to borrow a phrase from his American counterpart - and to right what he sees as the greatest "wrong" in the country's recent history: the collapse of the USSR and the loss of its superpower status.

---

(Nov 20 2018) - Paradise Post : Death toll surpasses 80 in Camp Fire
CALIFORNIA -- The toll from the Camp Fire continued to rise Tuesday, while a few more people were allowed to return to their homes — or what was left. Two more bodies were found, bringing the number of fatalities to 81. Residents in Little Chico Creek and lower Butte Creek canyons were allowed home ...

---

(Nov 19 2018) - Irish Post : Sinead O'Connor claims ...
IRELAND -- Sinead O'Connor has suggested non-Muslims are "mentally ill" less than a fortnight after claiming she would no longer associate herself with "disgusting" white people. The Irish singer also took a swipe at U2 frontman Bono in yet more controversial tweets since her conversion to Islam last month.

---

(Nov 18 2018) - Conservative Post : Global Warming ... ???
WORLD -- It would seem that the arguments of scientists pushing the narrative of global warming are unraveling. Otherwise, why would they bother to fudge the numbers? If climate change was really occurring how they're saying, there would be no need to manipulate the data. But, that's precisely what they're doing.

---

(Nov 17 2018) - Jerusalem Post : U.S. Coast Guard seizes cocaine ...
U.S.A. -- US authorities seized about 18.5 tons of cocaine with a street value of $500 million in the eastern Pacific Ocean, the US Coast Guard said on Friday. The cocaine was taken off the Coast Guard cutter James in the Port Everglades in Fort Lauderdale on Thursday after it was confiscated from 15 drug smuggling vessels

---

(Nov 16 2018) - China Post : Argentine Senate approves austerity ...
BUENOS AIRES -- Argentine lawmakers have approved an austerity budget for 2019 that cuts social spending and raises debt payments to meet conditions from the International Monetary Fund. The budget approved Thursday by the Senate projects a 0.5 percent slide in GDP and a 23 percent inflation rate by yearend ...

---

(Nov 15 2018) - Gwinnett Daily Post : Guns found at airport
ATLANTA, GA. -- Though the law prohibiting travelers from bringing guns on planes may seem like an easy one to abide by, passengers — especially those going through Atlanta's airport — are having a difficult time following the rule, the DOJ said. "As of Nov. 12, 293 have been recovered at Hartsfield-Jackson Int' Airport ..."

---

(Nov 14 2018) - Pakistan Christian Post : Creeping Islamic terrorism
BANGKOK -- Its very unfortunate that where ever Muslims are in large groups in Far East, South East Asia & South Asia are committing crimes under cover of Sharia law & taking up arms against respective governments of other faiths. The Muslim minorities in Sri-Lanka, Thailand, Myanmar & Philippines with support ...

---

(Nov 13 2018) - Courier Post : Hate crimes up 76% in New Jersey
NEW JERSEY -- Nearly 500 hate crimes were reported in New Jersey in 2017, a 76% jump from the previous year & the 4th-highest total in the nation, according to data released Tuesday by the FBI. The report comes as civil rights & religious groups raise alarms about a rise in hate-fueled incidents in the United States,
Estab. Jan 2008
---
Welcome to the newest on-line news service in the Porterville area. Our goal is to report the right news at the right time. In doing this, we believe that the community will get a greater sence of being connected.
---
The Right News @ The Right Time
---
Our second goal is to report above and beyond the main stream media.
---
Politically Inform and Educate
---
Our third goal is to politically inform and educate the voters and public at large.
---
A Conservative News Service
---
The Porterville Post is a Conservative on-line news service and when the Post makes a mistake in our reporting, we'll address it "Right Here" and if needed, with an appology. Please feel free to contact us with your comments or suggestions.
---
Writers | Columnists | Reporters
---
The Post - in the coming years - will be looking for new writers, columnists and reporters. We understand the need for new writers to have the chance of starting a new career and we'd like to offer a free internship at the Post.
---
---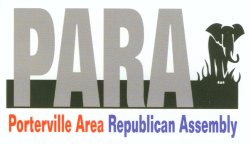 ---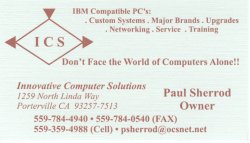 ---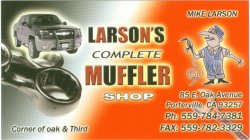 ---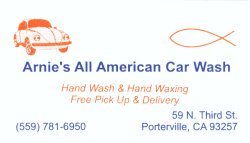 ---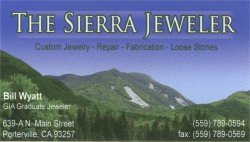 ---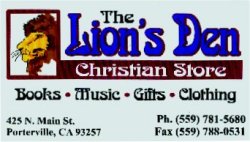 ---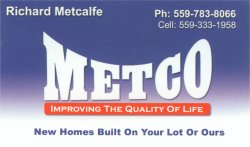 ---