Prophecy in Motion Class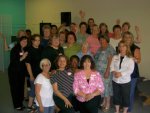 Ms. Kathy Yenigues : Speaker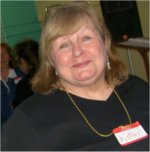 Ms. Betty Washinton : Speaker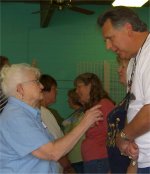 Most of the public thinks that the Biblical gift of prophecy is no longer available or used now-a-days. As well, many so-called believers' say these gifts passed away when the New Testament prophets and apostles passed away. But that just wasn't the case today at "La Iglesia Nazareno Chruch" in Porterville where Gods' women of faith assembled under the guidance of the Holy Spirit and the teaching of Aglow International. { www.aglow.org }
Prophecy in Motion Pictures
Today at an all-day "Prophecy in Motion" teaching seminar, sponsored by Aglow International, women were taught the truth about the gift of prophecy and how to use it. Aglow International Lighthouse-Area President Wilma Tolbert told the Post, "Aglow International has been meeting for 40 years and we are now in 172 of the 222 nations. I'm in charge of the Southern San Joaquin Valley area which geographically spans from Visalia to Frasier Park and from Tehachapi to Lake Isabella."
Betty Washington, long time member of Aglow International and local chapter leader spoke in the morning and taught the women the Biblical truths concerning the gift of prophesying.
Kathy Yenigues, who's been with Aglow for 20 years, took the women a bit further and had many practical demonstrations for the women. One of those practice demonstrations was to pray for each other and to prophecy to each other. And yes, they called little ole' me up to the front and prophesied over yours-truly.
When it was all said and done, these women acquired a sure foundation and had a great time learning. In the future these women will not be afraid to step out in faith to do whatever God calls them to do … or to prophecy.
Karen Cosio, whom God put into Aglow International 10 years ago, helped coordinate this event for the Porterville area along with Ms Betty Washington.
As a side note, the Post assured the leaders of Aglow international that we would provide web space for their up and coming events, much like we've done for others.
To reach the Porterville Lighthouse leader call Betty Washington at 539-3268.
Aglow International meets monthly in Visalia on the first Saturday of the month at 08:30 am at Visalia's Lamplighter Inn. For more info contact Wilma Tobert at 686-8246.