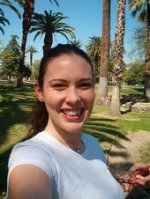 This past Sunday, The Church of God of Exeter and the Cornerstone Church put on a musical revival in Exeter City Park. Several Christian bands rocked the park attracting hundreds of people to gather and worship God together. Strong-man group Power House got the audience charged for Jesus with amazing feats of strength that reflected their testimony. Hundreds were moved to dedicate their lives to Jesus during a beautiful sunset alter call. The popular Christian rock group Pillar brought the audience to their feet, dancing and singing praises to God.
In the midst of this summer's triple digit heat wave, a cool breeze pushed pleasant clouds overhead that shaded the park as the sun relented, making for one of the most beautiful days this summer. It seemed as though God Himself was expressing His favor for this event.
Hundreds of Christians of all ages, with a majority of youth, joined together to worship and celebrate Jesus with music and prayer. Numerous Christian bands brought a variety of styles to the all day event, showing that diversity in Christian music can bring young and old together through Christ. It was an atmosphere of unity as children danced and played and teens socialized and sang along to the music as parents and grandparents relaxed in the shade, just enjoying the whole scene.
When the Power House strong-man team took the stage, they seemed to electrify the crowd. They brought a high energy testimony and preformed many exciting feats of strength including snapping baseball bats and ripping telephone books. They brought their show full circle back to God when strong-man Russ attempted to break out of a pair of police issue handcuffs. His partner reminded the crowd that the handcuffs were made by a man, but Russ was made by GOD. He said, if Russ can break free from those chains with the strength God gave him, anyone out there can break free from whatever chains the devil may have on them if they ask for God's help. When Russ broke the handcuffs, the crowd roared and a sense of freedom through God spilled into the crowd.
As the sun began to set, streams of light beamed from the clouds, touching everyone in the park with a gentle golden light. Everyone prayed together with their heads bowed as a majority of the people came forward during the alter call to dedicate their lives to Jesus. It was a breathtaking scene.
Soon after, the popular Christian rock band "Pillar" took the stage and brought the prayer and worship to the next level. Young and old alike danced, sang and praised God together. As I watched this band play, I could just see the soulfulness surging through their bodies, and I realized their music came straight from the soul. I remembered on of my favorite quotes by Henry Wadsworth Longfellow: "Music is the language spoken by angels," and I wondered if the angels in heaven rock out with electric guitars for God too.