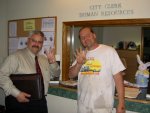 Today -- March 7th 2008 -- was the last day to submit paperwork for a seat on Porterville's City Council. This year there are three seats up for grabs and they belong to Eddie Hernandez, Pete Martinez and Cam Hamilton -- all incumbants getting back in the saddle for re-election.
The deadline being today was at 5pm and the Post saw that nine intially took out papers and only seven made the cut. New to this election cycle and the one's that the Post will focus on and possibly endorse include ... Mr. Richard Laswell (559) 781-7745, Mr. Jerry Waller (559) 784-6774, Mr. Brian Ward (559) 782-1015 and last but not least Mr. Greg Shelton (559) 784-7809.
Pictured are City Council incumbent Eddie Hernandez holding up three fingers, representing three incumbents and Greg Shelton holding up four fingers, representing four new candidates for City Council.
As the Post follows up on the new candidates, we will be hosting individual pages with their campaign information and plan to keep it posted until the election is over. We believe that the public needs to know more about the new candidates than those already in office.
So ... in the new week of so, you will get a chance to view the candidates profile and read their response to your questions and ours.