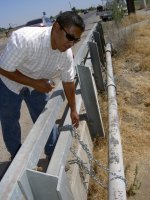 PORTERVILLE, CA. - This afternoon Porterville's water department responded to a call from a citizen - yesterday - saying that several brackets, braces and bolts were missing from one of the cities pipe lines which spanned the west side of Westwood Bridge.
Robert Alvarez, who was on sight taking pictures and surveying the structure of the bridge, told the Post that "the bridge is safe and structurally sound." Continuing, he said, "… about two dozen of these brackets were removed and several were damaged. To my knowledge, this was the first time something like this has happened."
Why would anyone steel nuts and bolts and brackets from the side of any bridge ? Answer : Only someone who had an addition to drugs such as crack cocaine and especially methamphetamine. Steeling these metal objects, which looked like aluminum, was their goal. Knowing that they can take just about any kind of aluminum to a recycle center and possibly exchange it for cash was their second goal. However, what these crack-heads took wasn't aluminum, it was steel.
For now the city has shored up the pipe line with many huge and thick steel chains. They'll return soon with the proper fittings and hardware.
Taking pictures for ourselves, the Post noticed that this area is in need of a graffiti makeover and possibly a little TLC from the community. Weeds and bushes have grown up quite high, which gives plenty of cover for vandals and thieves to come in and take what they like.
The city, in the next few days, will calculate the cost of this crime. The police, as well, may need to question some of our recycle centers regarding anyone who's been trying to pawn off steel bolts and brackets as aluminum and the Post thinks they should.
Now … should the city officials and police put out an "Amber Alert" for aluminum thieves ? No, they got their hands full with drug dealers and gangs. However, this crime is serious enough that if it got reported as a possible terrorist event, you can bet your last dollar that folks from homeland security would be in Porterville in a few hours and they'd be prowling around in our local neighborhoods.
The Post believes that we should all do what this "unmentioned" citizen did … and that's to report crime. Don't second guess it, just report it. Good work guys …