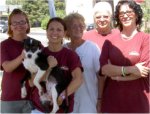 PORTERVILLE, CA. - Today Michelle Shanley, volunteer coordinator for Tulare County Animal Control shelter, came to Porterville with a bunch of happy four-legged-friends, looking to be placed / adopted by happy two-legged-families. Ms. Shanley, who's been with the animal shelter for 7 years says, "I come out here mostly for the kisses, however, if we do not come out here and place these animals with good families, they will eventually be put down."
Every other week, Ms Shanley told the Post, you can find us here in Mervyn's parking lot, just north-east from the store, next to the sidewalk. "And today, we were able to place 8 dogs and 2 cats, Ms Shanley told the Post. In the summer and spring months we come to Porterville every other weekend and start setting up around 9am and wrap it up around 2 or 3pm, depending upon the heat and how good the animals and staff are holding up."
Additional volunteers helping Ms Shanley today included, Thelma, Christie, Anita, Crystal, Nancy, Megan, Mandy, and Hagen. "Normally these folks work all week long and then come out here to help with the adoption and I want to thank them all." Of course they cannot bring all the animals to Porterville each time there too many.
---
---
Currently Tulare County Animal Control has about 200 dogs waiting to be placed and about 100 cats. The shelter has been open for about eight years and could use more volunteers there as well.
For more information call Ms Michelle Shanley at (559) 636-DOGS or 636-3647. To send e-mail mshanley@tularehhsa.org or to look them up on the web go these web sites : www.DogsInDanger.com or www.Petfinder.com.