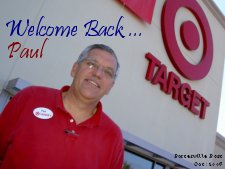 PORTERVILLE, CA. - Porterville's newly expanded and remodeled Target opened up today with one of the grandest openings ever. From early this morning shoppers couldn't wait to get inside and look at all the new merchandise – let alone stroll through some of the longest shopping isles in town.
Paul Tuttle, who's transferred from southern California in 94, told the Post that this Target originally opened in 1992 and has had steady flow of customers ever since. Some folks, Paul added, when out of their way today to say 'we're so glad you're back open.' "
Mr. Tuttle highlighted that this new Target has 135,000 square feet an expansion close to 50,000 square feet and currently has 200 employees. "We have almost every kind of discount product you may need plus many quality and designer name brands."
"This is the 1685th new Target" said Mr. Tuttle – Target Store Manager. We have all our shelves stocked with all your favorite Target brands and a few more. If you don't see some item that we used to carry, please let Target know by calling them at (559) 719-2203.
Target is opens daily at 8am - 7 days a week.
Welcome back Paul Tuttle and Porterville Target