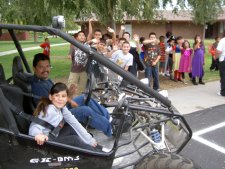 PORTERVILLE, CA. - This afternoon Ray Pacheco was giving FREE RIDES in his "Odyssey" - an all-terrain vehicle - to all the kids who attended the local Boys and Girls club. The kids waited all day for Ray and couldn't wait for that moment when he strapped them in and took them for a little spin in the parking lot.
Matthew Keel, the Boys and Girls Club director was stationed on the Westside lawn area and couldn't get to the Post for comment, but Ms Windy Rambo, the newly hired education coordinator, took a little time to update the Post regarding this past year.
"We celebrated our first year as a Boys and Girls Club a couple of weeks ago, Ms Rambo informed the Post and thanks to Exeter we became established. Today we had Mr. Pacheco bring his Odyssey over and take the kids for a ride. Ray is one of our volunteers who lives right across the street from the First Methodist Church and has been a valuable volunteer."
At Porterville's Boys and Girls Club parents and volunteers are welcome and needed. The Club is open Monday through Friday, from 2-6 pm during school. In the summer months the Club is open from 10:00 to 2:00pm and some of their activities include sports, recreation, art, computer and snacks. However, Ms Rambo said, "When they first get here, we concentrate on school home work for the first hour and then they can have a little fun with our resources."
The Boys and Girls Club is located at the First Methodist Church on the corner of Morton and Plano. For more information call – (559) 793-2511. Donations are also welcomed.
PRAYER : Dear LORD, Please Bless Porterville's Boy and Girls Club with additiona volunteers and donations. And LORD, please help the children who attend these functions to get to know YOU as LORD and Saviour ... In JESUS Name !