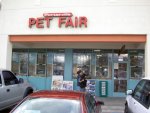 Anne Bellar and daughters Kateri and Kathy were a few of the customers at Porterville Pet Fair, Friday afternoon. Some were buying supplies and food for there pets, while others spent time admiring the different animals in the store.
The Porterville Pet Fair is not new to Porterville as they have been around for quit some time. The difference being today is that the store is under new management and a new sense of excitement.
New Store Manager Javier Barajas stated, "It's taken me sometime to make the changes I saw fit for the store." There is no doubt changes have taken place, for the store has increased its fish supply and looking to increase them in the near future. Also, the store appears "less cluttered," one customer mentioned. These changes have been noted, by many of Porterville Pet Fair long time customers, as being good for the Porterville store.
Anne Bellar and daughters were fashioning their iguanas and came to the store to buy feed for them. "We needed a good store here in town," expressed Anne. She also stated that Porteville Pet Fair was a better store then a big chain store located in Visalia. That is an excellent compliment to not just the Pet Fair, but also for Porterville. As many of Porterville's residents will drive to Visalia rather then shop locally.
The Porterville Pet Fair is located at 1383 West Henderson Avenue, Porterville, CA 93257 in the Target Shopping Center with phone number (559) 783-1499. Stop by and show Porterville Pet Fair your support.
My thumbs up Porterville Pet Fair and we welcome you to Porterville Javier Barajas. May your excellent staff continue to serve animal lovers of Porterville.